Tetris Axis
SCORE: 90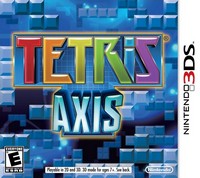 Tetris is one of the oldest and most recognized video game franchises. Billions of people know what Tetris is. This game has been on more platforms than most gamers have ever played on. And yet this old dog can be taught a new trick. Tetris Axis is in total 3D. And without any glasses. You know Nintendo should pay me for using their selling point. Families can compete in the brand new marathon, or fever. Seven people can battle one another using one game cartridge.
Tetris Axis looks great graphically. All of the shapes and colors we have come to expect are present and accounted for in this Nintendo 3DS video game. The backgrounds are diverse, interesting, and many times very cool. Especially in things like Jigsaw. The 3D effects in Tetris Axis are okay. The menu screens are kinda cool, and knocking down rows of blocks is neat. After that Tetris Axis is just okay.
The music in Tetris Axis is first rate. I love listening to the music in this hand held title. They have a neat remix of the original Tetris, and some neat new tracks that got my mental juices flowing. The special effect sounds are superb as well.
The various modes in Tetris Axis will keep families busy for a few weeks. Then you can start to compete across the Internet, via local play, and use that Spotpass thing. The cool part is eight people can play Tetris Axis with just one game cartridge. Tetris Axis is one of those games that can be very addicting. I knew I could do better if I did it one more time. Suffice to say hours vanished.
I learned something about Tetris Axis very quickly. The little joystick controller does not work with this 3DS game. The D-pad is adequate for this game. It still felt strange not being able to use that circle joystick controller. Tetris Axis starts things out nice and slow. The farther you progress the faster it gets. If you go online early, please realize there are merciless players who will dominate you in a few minutes. They are ultra aggressive, and do not care about the feelings of others.
Tetris Axis teaches us to concentrate, and think through how to fit things together. This hand held title can be seen as mental exercises in puzzle solving. Can you look at blocks and find the best way to put them together? I purchased Tetris Axis with my own money because of how much I enjoy this franchise. I also believe it is a game our millions of readers may take an interest in. I am recommending a purchase.
- Yolanda
Graphics: 88%
Sound: 98%
Replay/Extras: 90%
Gameplay: 85%
Family Friendly Factor: 90%

System: Nintendo 3DS
Publisher: Nintendo
Rating: 'E' for Everyone
Want more info on this product, the company that made this product?
Set web browser to:
Link


Please click on one of these pictures to purchase this game and support us. Family Friendly Gaming is given a 5% commission on all orders.

Got a question, comment, or a concern regarding this review?
Email them to:
craftiemom@familyfriendlygaming.com