StarDrone Extreme
SCORE: 83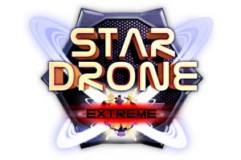 Round and round she goes, where she stops nobody knows. That little phrase reminds me of StarDrone Extreme. We latch onto objects and sling around and around. We release towards the area we need to go which is usually another object we can connect to. This may sound familiar. There was a StarDrone game on the Playstation 3 (PS3).
So what is it exactly that makes StarDrone Extreme, well extreme? It is a wonderful port from the home console to the hand held. But is it extreme? I am not really sure about that. But companies have to come up with something to differentiate and extreme is as good as any. Plus it will catch eyes and in this industry that is always needed.
The graphics in StarDrone Extreme are beautiful. The space, colors, special effects and more stick out. Some of those special effects mesmerized me - the colors were pretty. There is some violence as our object can bash into things and break them apart. It can also explode when its health is depleted or if we ram into things like spikes.
The special effect sounds are one of the things that really makes this hand held game. They let us know when we have powered up the stars. The music brought a smile to my face, and pumped me up to play. I am not sure what the storyline is, but it really did not matter. StarDrone Extreme is a puzzle game where completing the level is the object.
Family Friendly Gaming was provided a reviewable copy of StarDrone Extreme to download. I feel there are enough levels to warrant the price of admission. Especially if you are into puzzle games that require some action on your part. Timing can be everything in StarDrone Extreme. The controls are very simple to pick up and learn. StarDrone Extreme does explain how to play it as well.
My one complaint about StarDrone Extreme is it had to upload an update the same day it was released. This seemed a little odd in my opinion. It was made worse because I had to update the Vita before being able to download the game. Three downloads before getting to play a game is a bit much in my opinion.
Speed and angles are the main lessons in StarDrone Extreme. The violence is mild, and usually we blow up our little orb hitting things like spikes. I found StarDrone Extreme to be a fun game to play. I love beat levels and seeing the backgrounds behind the level select screen. If you are looking for an action puzzle game on the Vita, check out StarDrone Extreme.
- Paul
Graphics: 89%
Sound: 86%
Replay/Extras: 79%
Gameplay: 80%
Family Friendly Factor: 80%
System: PS Vita
Publisher: Beatshapers
Rating: 'E' - Everyone
{Mild Fantasy Violence}
Want more info on this product, or the company that made this product?
Set web browser to:
Link

Got a question, comment, or a concern regarding this review?
Email them to:
pbury@familyfriendlygaming.com