Sound Shapes
SCORE: 88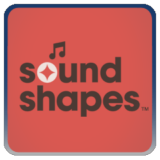 Sound Shapes reminds me of that old phrase: "business is about ready to pick up." The Playstation Vita has had a drought that is getting ready to end. To be fair Sound Shapes is on the PS3 and PS Vita. So families can enjoy this eclectic adventure on either system. I enjoy it on the PS Vita personally. Sound Shapes can be difficult to classify.
Why would anyone have problems classifying Sound Shapes? It is a strange action adventure game where we collect items and avoid enemies. We also have to avoid the color red. Sort of like Green Lantern with yellow. Sound Shapes also has a rhythm to it. I do not want to call it a music game, but the sounds are very important in this game.
Graphically Sound Shapes is all over the place. There are themes in each of the records. A record is a gaming world in Sound Shapes. Multiple levels in each records, and multiple records. If you blow through the entire game, then you can create your own levels. Sound Shapes is very kind to players that way. Each time a level is defeated additional content is unlocked in the create levels section.
This encourages players to beat every level. Sound Shapes also encourages players to do their best. On certain levels this game asked me if I wanted to post my scores online. It did not ask me on every single level. So I had to accomplish certain things to be included. Notes are found in Sound Shapes. They enhance the complete the musical score.
Everything in Sound Shapes is part of the song. Enemies, objects, and so on. All of these things play an integral part of the song being played. Sound Shapes pays homage to music in so many ways. There are tapes, records, and more. I personally appreciate this level of production value. Trust me Sound Shapes has high production value.
Some of the levels in Sound Shapes can get tough. There are multiple continue points to popping out of existence is no big deal. Once we tap something red our little blob will quickly vanish. He will then re-appear at the continuation portal. It is almost like teleportation. That is how I view it personally.
The controls in Sound Shapes are pretty simple. We move around, and jump. There are certain surfaces our rotund character can stick to. Gravity is no concern when we are stuck to something. We have a button to make our character run. We can not stick and run at the same time. In fact hitting it can help us detach from certain surfaces.
Sound Shapes is one of the most unique games I have played on any system. Let alone the PS Vita. I believe Sony has a sleeper hit on their hands with Sound Shapes. I am very thankful that Family Friendly Gaming was provided a download code for this review. I can see Sound Shapes receiving sequels in the future.
- Paul
Graphics: 90%
Sound: 94%
Replay/Extras: 89%
Gameplay: 84%
Family Friendly Factor: 85%
System: Playstation 3/PS Vita
Publisher: Sony
Rating: 'E' - Everyone
Want more info on this product, or the company that made this product?
Set web browser to:
Link

Please click on one of these picture(s) to purchase this game and support us. Family Friendly Gaming is given a 5% commission on all orders.


Got a question, comment, or a concern regarding this review?
Email them to:
pbury@familyfriendlygaming.com