Sega Superstars Tennis
SCORE: 67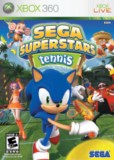 Diehard true blue Sega fanboys are waiting for the company to produce another video game system. While that does not seem to be on the horizon, there are many games that will appear on various systems. I decided to help this ministry fill in a gap in the form of Sega Superstars Tennis. When I saw this game for a very good price at Gamestop, I hoped it would not be a waste of money. I had played a demo a few months back and was not very impressed. Yes this game is a Mario Tennis clone. But Sega has done a fair job in the past of making these kinds of clones work. Plus we get Sonic, Nights, Super Monkey Ball characters and more. Sega included a fair array of Sega characters in this game. I used the Xbox 360 version for this review.
The tone of the graphics depend on where you are. Space Channel 5 has enticement to lust, the zombie areas are dark and disturbing. The areas where Sega Superstars Tennis shine are the Sonic, and Super Monkey areas. But there are more than enough dark areas in my opinion. The zombies in Sega Superstars Tennis ruin the game. The short skirts of certain female characters add an extra nail in the coffin.
The announcer in Sega Superstars Tennis annoyed me to no end. The classic music from the different areas is nice. Certain characters say things I would not want children to be repeating. The tennis sounds in Sega Superstars Tennis work famously. I also enjoyed the power ups of the different characters. Although they did happen way too often.
I really can not stand how Sega Superstars Tennis plays. Supposedly certain characters have different strengths. I found little difference playing different characters. I also had issues putting the ball where I wanted it. I found the computer making miraculous saves way too often. The special moves are not always helpful, and can hurt you at times. The mini games in Sega Superstars Tennis are interesting, but more of a diversion than anything else.
There are enough modes in Sega Superstars Tennis to keep families interested for a few weeks. Sadly there is too much bad content in this game. I learned some basics of tennis thanks to Sega Superstars Tennis. Improvements could make a sequel better for families.
- Sam
Graphics: 57%
Sound: 71%
Replay/Extras: 79%
Gameplay: 65%
Family Friendly Factor: 63%
System: Xbox 360/Wii/PS2/PS3
Publisher: Sega
Rating: 'E10+' for Everyone 10+
{Mild Blood, Mild Fantasy Violence, Mild Suggestive Themes}
Want more info on this product, the company that made this product?
Set web browser to:
Link

Got a question, comment, or a concern regarding this review?
Email them to:
GameReviews@familyfriendlygaming.com