Ragnarok Odyssey
SCORE: 65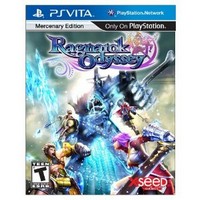 Mankind has long wondered what was on the other side of the impassable Millennium Mountains. One day they find out, and it turns out to be a Pandora's Box kind of situation. There are giants on the other side. Giants that come across to destroy everything in their path. Mankind must now fight for survival.
This is the fantasy world of Ragnarok Odyssey. How this PS Vita title plays is a lot like the Monster Hunter series. In fact there are a lot of similarities between the two. In Ragnarok Odyssey we collect all kinds of items from the monsters, and we go out on quests. Plus we only have so much time to complete each quest. Ragnarok Odyssey also blocks us off from areas that do nothing to help with the quest.
The opening anime cinema shows how destructive the giants can be. And these are not Skylanders either. The graphics are bright and colorful in Ragnarok Odyssey. The character models are large and realistic. Expect to see thousands of acts of violence while playing Ragnarok Odyssey. A few characters could have covered up better too.
Ragnarok Odyssey is very slow progressing. Players go through quest after quest before anything story related ever happens. Even then it may not be immediately clear that something important is happening. It can feel like something related to yet another quest.
The music in Ragnarok Odyssey is epic. The bad language issues drag this game down. It was not needed in those instances and wind up hurting the end product. The voices in Ragnarok Odyssey are adequate. Nothing too terrible, and nothing too memorable.
Ragnarok Odyssey is a world full of false gods and goddesses. No reinforcement of the Christian belief set is in this game. Unless you count doing your quests to the best of your ability. But then players are beating one quest to open up additional ones. Completing everything in one chapter to make it to the next one.
Ragnarok Odyssey excels in items, and their variety of uses. The same goes for cards. The tonnage of items in Ragnarok Odyssey is staggering. Those that enjoy digging into all of the items, monsters, and classes will find weeks of replay in Ragnarok Odyssey.
Ragnarok Odyssey is for the older members of the family that enjoy the Monster Hunter kind of games. Those that enjoy hacking and slashing thousands of the same enemies. Areas will have a variety of different monsters, and more powerful ones are introduced as the player progresses.
- RPG Master
Graphics: 54%
Sound: 60%
Replay/Extras: 90%
Gameplay: 70%
Family Friendly Factor: 50%
System: PS Vita
Publisher: XSeed Games
Rating: 'T' - Teen
{Fantasy Violence, Language, Mild Blood, Use of Alcohol}
Want more info on this product, or the company that made this product?
Set web browser to:
Link

Got a question, comment, or a concern regarding this review?
Email them to:
GameReviews@familyfriendlygaming.com