PES 2013
SCORE: 91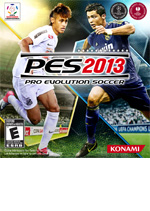 Get the horses in the barn, the cows in the back field, and put the kids to bed. Why? Because there is a new king of soccer games. PES 2013 is the best soccer game this year. Hands down PES 2013 is safer for families than anything else on the market. I know that is a bold statement.
Think with me for a minute. PES 2013 does not have the deviant controversy its competitor has. PES 2013 is an easier game for families to pick up and play. PES 2013 is more fun than the competition. The sports juggernaut stumbled in the year of our Lord 2012, and Konami pulled off a Rocky moment.
PES 2013 looks good. I could tell who was on my team, and who the opposition was. The players are small until we get to the replays. Then we can see how good this home console game looks. I did run into some collision issues though. I saw a referee pass partially through a player after a whistle was blown.
Speaking of whistles in PES 2013. I had one problem in this game. That was a player running past where they could go. I was not controlling them either. They were computer controlled characters. I had hoped the AI would be a little wiser about that, especially when it came to a championship team.
PES 2013 has a real international flavor to it. From the music to the announcers. If families are not impressed with the music in PES 2013 they can bring in their own songs. Konami also included classic game songs like Frogger, Contra and Castlevania. Those songs will stir memories in long time gamers.
Good grief there are many different game play modes in PES 2013. We can play online, offline, be a legend, play in a variety of leagues, and more. I loved conversations with my agent in the be a legend mode. His continued interaction gave the illusion of being an actual soccer player.
I love the controls in PES 2013. It is easy for anyone to pick up and play. I could go into games and with some hard work I could score goals. Certain other soccer games released this year felt the need to punish the players, and expect a PhD to actually score any goals. There are multiple difficulty settings. I encourage families to start on the easier settings, and work their way up.
Konami obviously thought of families when they published PES 2013. Families can learn how much fun soccer can be. It is a sport that requires many hours of running. PES 2013 can be a great learning tool in how to play the game of soccer. As well as a variety of ways to control the ball.
Stand out features this year are PES FC (Full Control), Player ID, and ProActive AI. This franchise has come a long ways in a few short years. I hope to see additional improvements in the coming years. I am sure Konami knows that winning the belt, and keeping it are two completely different things. PES 2013 has reached the top of the mountain. Can it stay king of the hill?
- Frank
Graphics: 83%
Sound: 89%
Replay/Extras: 99%
Gameplay: 93%
Family Friendly Factor: 90%
System: Xbox 360/PS3/Wii/PC/PS2
Publisher: Konami
Rating: 'E' - Everyone
Want more info on this product, or the company that made this product?
Set web browser to:
Link

Got a question, comment, or a concern regarding this review?
Email them to:
GameReviews@familyfriendlygaming.com