Nintendogs plus Cats
SCORE: 85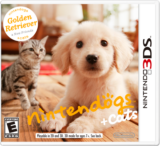 Nintendogs + Cats gives fans what they clamored for - the cats. But quite a few years worth of water has passed below the Nintendogs bridge. And Nintendo did some odd things with this sequel. Most noticeable is players no longer pick out their walking path. Instead we go on a standard and rather boring walk. Yet there are some neat new things like the cats, lure competition, and of course the 3D effects. This is the selling point for the Nintendo 3DS. Families can get a game system that shows them 3D without the glasses. I know some of ya'll don't care about glasses. But what about those of us who already wear prescription glasses? How are we supposed to get that 3D effect?
The dogs and cats look very realistic in Nintendogs + Cats. I am a little dismayed that the cat animations mimic dogs, and not cats I have experienced in real life. There are other realistic looking aspects of Nintendogs + Cats that families will enjoy and find. Playing frisbee with a dog is one of the biggest one in my opinion.
The animals in Nintendogs + Cats sound like the real live ones. I marvel at how realistic the barking is in this hand held video game. The music fits the theme and adds to the overall presentation of Nintendogs + Cats. The only thing missing from Nintendogs + Cats is actually feeling the animal as you pet him or her.
Nintendogs + Cats is a game that you play for a few minutes every day. Players can only take their animal to so many competitions per day. You start with a dog and it takes a long time to earn enough money for a cat. So Nintendogs + Cats is really done for dog lovers with cats sort of tacked on. I found this to be annoying.
I spent my own money on Nintendogs + Cats and feel I got my money's worth. I am unhappy that there is not as much to do. Playing with a puppy can only keep the attention for so long. Doing the competitions are fun, but when your done for the day, you are done. There is entertainment value in Nintendogs + Cats. It just seems less than the original.
The foundational lesson in Nintendogs + Cats is how to take care of animals. If a child can take care of an animal every single day in Nintendogs + Cats then they should be able to take care of one in real life. As a parent this can be used as a test. It costs less than a real animal, and less hassle than the real thing. Trust me, we have pets and you know who winds up cleaning up after them. Not the kids who wanted the pet.
- Yolanda
Graphics: 85%
Sound: 88%
Replay/Extras: 80%
Gameplay: 81%
Family Friendly Factor: 90%
System: Nintendo 3DS
Publisher: Nintendo
Rating: 'E' for Everyone
Want more info on this product, the company that made this product?
Set web browser to:
Link

Got a question, comment, or a concern regarding this review?
Email them to:
craftiemom@familyfriendlygaming.com