Nicktoons MLB 3D
SCORE: 84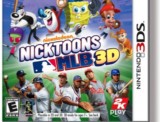 Nicktoons MLB put a real smile on our faces here at Family Friendly Gaming. So I was extremely excited to hear it was being ported over to the Nintendo 3DS. A hand held version of this franchise is a wonderful idea. The mixture of real baseball players with the cartoon characters is pulled off masterfully. Nicktoons MLB 3D is not a perfect game though, and we will get to that in just a minute.
There are bright colors used in Nicktoons MLB 3D. I love how the different characters look in this hand held title. They lost some of the details from the home console versions, but they are still recognizable. The 3D in Nicktoons MLB 3D is okay. I honestly was expecting a lot more. The menu screens and load screens look awesome. The baseball play screen did not do much for me.
I rarely could figure out what the little robot announcer was saying. I know he and the other announcer were working on being humorous. I chuckled on more than one occasion. Their comments do come across as sound bytes. I also ran into a glitch while playing Nicktoons MLB 3D. When the game throws out a character on one base it tells you: "OUT." When it throws to another base and that runner is safe, it tells you: "OUT," and then: "SAFE." I was very confused by this at first. I also noticed that OUT stayed on the screen on the second base when that runner was actually safe. Your second runner is safe, and does stay there - so don't worry about that.
There are twenty-seven Nicktoon characters, and 175 MLB players from all thirty baseball teams. There are various modes and mini games in Nicktoons MLB 3D. Cards are unlocked like achievements. An example would be scoring ten runs in one inning. Yes I did that, and it is not as hard as you might think.
People sometimes freak out when they realize how good I am at recognizing patterns. I found that I could get a hit eighty percent of the time with a power swing once the pitcher makes a swoosh throwing sound. This lead to twelve run innings for me. I eventually had to purposely strike out to finish games when my lead was high enough. Thing is I could not sustain these rallies every single inning. Usually at least once in a game.
Nicktoons MLB 3D is on the east side in my opinion. But I do believe it is geared more towards children than adults. For children this is a fun franchise. They laugh at the various comments from the characters, and love the fantasy stadiums. Nicktoons MLB 3D taught me that an arcade style baseball game can be just as much fun as a simulation style one.
- Paul
Graphics: 80%
Sound: 74%
Replay/Extras: 97%
Gameplay: 86%
Family Friendly Factor: 84%
System: Nintendo 3DS
Publisher: 2K Play
Rating: 'E'- Everyone
Want more info on this product, or the company that made this product?
Set web browser to:
Link

Got a question, comment, or a concern regarding this review?
Email them to:
pbury@familyfriendlygaming.com