NHL 13
SCORE: 79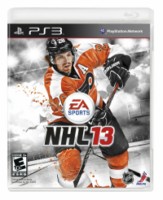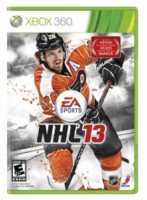 I have been eating up all of the NHL 13 coverage on Family Friendly Gaming. I want to be sure to thank the team who worked tirelessly without any complaints to bring all of us that coverage. That also means a major thank you to the team over at EA Sports. They provided all of that content to Family Friendly Gaming to cover. EA Sports also needs to be thanked for providing Family Friendly Gaming a reviewable copy of NHL 13.
EA Sports continues to impress sports gamers. They find something good and they stick with it. The True Performance Skating, and Hockey IQ add new depths of realism. Those goalies are tough to score on. That is the bad news. The good news is your goalie is also tough to score on. So you do not need to freak out when the opposing team takes a shot.
The presentation of NHL 13 is astounding. It is becoming more difficult to distinguish a real game from the video game. The rinks, the ice, the players, the puck, and everything involved looks very realistic. The animations are stunning. There is some violence in NHL 13 as some teams go body check wild. This can get annoying when trying to score.
NHL Moments Live is my personal favorite part of NHL 13. WE can relive historical moments in hockey. These are real world events that happened last year, and this year. We can recreate them in video game form or we can take a completely different path. Special attention was put into the presentation when you are close to fulfilling parts of the goal.
Like other EA Sports titles you can expect to connect to other gamers in NHL 13.The GM Connected mode is one such example. Seven hundred and fifty people can join together in the same league. There is a mobile companion app so you can always stay connected to what is going on in GM Connected. I know, that's freaky.
The broadcasters in NHL 13 shocked me. They were on target at such a high percentage. Their commentary between periods was very insightful. I also loved it when they told me they were appreciating such a good game. That was a feather in my cap. Sadly that game went down hill from there for me. But we can't win all of them.
The core of NHL 13 is the hockey. And there is a ton of hockey in this home console game. You can create a player, manage your favorite team, trade players, become a legend (and not just in your own mind), scout players, check leaderboards, play against other human, enjoy the Winter Classic, analyze plays in the replay camera, and so much more.
It is easy to say NHL 13 is the best hockey game EA Sports has ever put out. It is easy to say NHL 13 is the best hockey game. I am going to quote a professional wrestler with my own little twist. NHL 13 is the best hockey game there is, the best hockey game there was, and the best hockey game that ever will be.
- Frank
Graphics: 77%
Sound: 80%
Replay/Extras: 90%
Gameplay: 78%
Family Friendly Factor: 73%
System: PS3/Xbox 360
Publisher: EA Sports
Rating: 'E10+' - Everyone 10+
{Mild Violence}
Want more info on this product, or the company that made this product?
Set web browser to:
Link

Got a question, comment, or a concern regarding this review?
Email them to:
GameReviews@familyfriendlygaming.com