NFL BLITZ
SCORE: 70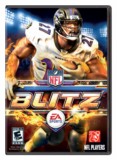 There is one video game franchise that all gamers know when we talk about smash mouth football. I am talking real smash mouth football. The kind that will clothesline you, or give you a power bomb. You know of whom I speak. EA Sports has brought the fast paced, run you over, and talk some smack about it franchise back.
Owners of the Playstation 3 (PS3), and Xbox 360 can experience the electricity of NFL BLITZ. Family Friendly Gaming was provided the PS3 version of this arcade sports title. Parents need to be aware right off the bat that NFL BLITZ has some ESRB descriptors and is recommended for ages ten and older.
Expect the hardest hits you have ever seen in NFL BLITZ. This is not Madden. This is not the football you are used to. This is hit your player and watch him fly five yards. This is Spike TV kind of football. NFL BLITZ includes cheerleaders who are in essence eye candy while the game is providing tips. Be smart read the tips, and ignore the girls.
First downs in NFL BLITZ come in thirty yard increments. A touch back is even at the thirty yard line. Don't worry because everything is over the top in NFL BLITZ. This is the NBA JAM game on the football field. Scoring in NFL BLITZ can come as fast as arena football. Expect some high scoring games while playing NFL BLITZ.
The commentators have some hilarious things to say. I found myself laughing at many of their jokes. And they pulled some swerves on me while I was playing. They also warned me of high percentages when the defense would blitz me. I appreciated that. Be careful of little ears around you while playing NFL BLITZ though. They can say some words you will not want younger ones hearing just yet.
If you have an EA account you can play some of the numerous online modes. Don't worry there are offline modes, and it is not too difficult to set up an EA account. My personal favorite mode in NFL BLITZ is the Gauntlet - where additional characters can be unlocked. Many of these are of the wall, but still fun to acquire.
The price of NFL BLITZ is very reasonable. Be patient with the download of NFL BLITZ since it is two gigs. The controls work masterfully in NFL BLITZ. Pay attention to what they are because they can be the difference between a sack and a first down. Kicking things like field goals and punts are on the difficult side in my opinion.
NFL BLITZ is a mix between professional wrestling, and football. Score a touchdown and the fireworks go off. First down markers are easy to see, and there is an audible sound when you pass specific lines. Like the line of scrimmage, the half way point (15 yards), the first down marker, and finally the goal line.
NFL BLITZ is football on high octane. I know this is not for everyone. But the aggressive gamers out there will get a real kick out of this game. Do not expect stats to be tracked in NFL BLITZ. Instead it is all about dishing out the punishment. It has been a pleasure for me to play NFL BLITZ. It is a worthy successor to that franchise from the past.
- Paul
Graphics: 61%
Sound: 73%
Replay/Extras: 77%
Gameplay: 80%
Family Friendly Factor: 60%
System: Playstation 3/Xbox 360
Publisher: EA Sports
Rating: 'E10+' - Everyone 10+
{Comic Mischief, Mild Language, Mild Suggestive Themes, Mild Violence}
Want more info on this product, or the company that made this product?
Set web browser to:
Link

Got a question, comment, or a concern regarding this review?
Email them to:
pbury@familyfriendlygaming.com