NBA 07
SCORE: 72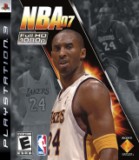 Every so often we get an email that asks why we would review an older game. The answer comes in two parts. First off there are older games in the bargain bins at various stores and websites. Not everyone has to have the newest and latest game. Many people will take the same amount of money to a store and come away with two to three times as many games for the same price. Bargain hunters need help in discerning the good from the bad. The second part is we did not initially cover the game. For whatever reason some games do not get reviewed immediately. We leave the door open to cover these games when time and financial resources allow.
NBA 07 looks good for the era on the Playstation 3. The Full HD 1080 looks better on this system than the Playstation 2 version. The shine on the basketball courts is fantastic. Plus it is great to see awesome teams like the Seattle Supersonics still in video game basketball. Don't get me started on the greed and slimy politics that went on to remove that legendary team from that city.
The announcers in NBA 07 leave a lot to be desired. The same can be said for the music in this game. This style of obnoxious music makes me want to ignore the basketball sport from now on. The choice NBA 07 gave me is to turn the volume completely off for the music or listen to the ugly music. I turned it off so I could have somewhat of a pleasant experience with this game.
There are various teams, and modes in NBA 07. Sports fans will find a lot of various ways to play NBA 07. The price of NBA 07 was very low so it did not cost me much to purchase this game. Still with that said the game play issues with NBA 07 made me feel like my money was wasted.
The game play in NBA 07 is horrible. I thought about sugar coating it, but I can't. This game has players start to shoot with a colored bar. Get it into green and you have a high chance of making the basket. Here is the problem - you don't know if it will be a good shot until you have started shooting. I also ran into situations where the lane was wide open for a dunk and my player was dribbling and moving like he had someone right by him.
When I played basketball it taught team work, and how to work together. It seems that basketball now-a-days is all about a few star athletes who are working to pump up their own egos. Certain players are good on certain teams, and a smart gamer will go to them again and again. Why waste time on the ones that keep missing? I know that sequels to this franchise improved some of the issues in NBA 07.
- Frank
Graphics: 81%
Sound: 66%
Replay/Extras: 82%
Gameplay: 55%
Family Friendly Factor: 75%
System: Playstation 3
Publisher: Sony
Rating: 'E' for Everyone
Want more info on this product, the company that made this product?
Set web browser to:
Link

Got a question, comment, or a concern regarding this review?
Email them to:
GameReviews@familyfriendlygaming.com