Madden NFL Football
SCORE: 87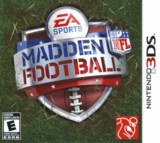 There were a couple of games that were on my high priority listing for the Nintendo 3DS. Madden NFL Football was one of those games. It took me a few months to save up the money to purchase this hand held video game, but it was worth it. The gameflow mode is perfect for those who may not have an education in the sport of football. I do, and took my Seattle Seahawks to a dominate Super Bowl win. Going 15-1 in the regular season was also quite an achievement.
The graphics in Madden NFL Football look fantastic. This is the best looking football game I have seen on any Nintendo DS machine. The 3DS is more powerful of course. The animations look better in Madden NFL Football than the PSP versions of Madden. There are some fun end zone dances. The fans in the stands look pretty stale, but we can't have everything in the inaugural launch of a franchise on a system.
The commentary in Madden NFL Football is interesting. They have various canned things to say. At times I turned off the sounds because I could concentrate better without them. It is all or nothing with the music. I counted five songs as I cycled through. There are a few good ones. The messages in the lyrics are not the greatest though.
There are enough modes in Madden NFL Football to warrant replay. I got my moneys worth by playing an entire season. I played five minute quarters, so I got my time out of this game. There is 11 on 11, and 5 on 5. Personally I prefer the 11 on 11. That is how real football is played. The flow in Madden NFL Football feels like real football. Some multiplayer modes would have been appreciated.
It would have been nice if there had been a franchise mode, but I had fun with how Madden NFL Football plays. Running a one hundred yard kick-off return back for a touch down is priceless. The same goes for punt returns, and finding the open man to pass to. The gameflow usually picks good plays. Not always, which is what makes the audible system wonderful. Control freaks can pick every single play from a variety of formations.
I can not wait for sequels to Madden NFL Football. I feel this is a great game right out of the gate. I can see a few areas for improvement. I am very thankful that EA Sports published this game on the Nintendo 3DS. I learned to make wise decisions. Getting burned on not making a fourth down conversion will do that. I love being able to play my favorite team and dominate. No president congratulating me though.
- Paul
Graphics: 92%
Sound: 81%
Replay/Extras: 86%
Gameplay: 90%
Family Friendly Factor: 85%
System: Nintendo 3DS
Publisher: EA Sports
Rating: 'E' for Everyone
Want more info on this product, the company that made this product?
Set web browser to:
Link

Got a question, comment, or a concern regarding this review?
Email them to:
pbury@familyfriendlygaming.com