Madden NFL 13
SCORE: 93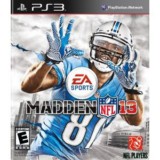 Family Friendly Gaming was blessed with four copies of Madden NFL 13 this year. Two on the PS Vita (so we had the opportunity to play together), one on the PS3 and one on the Xbox 360. Alan is taking care of the majority of the reviews. I decided to try my hand at the Playstation 3 version. This year Madden NFL is all about options. I could not help but notice many of these are online.

An account is needed with Origin EA to play the wide array of online modes. This is where this franchise is going, especially with the variety of communities. Those without an Internet connection and/or an EA account do have offline modes they can enjoy. The Play Now is great for families that want to get right into the action.

Career mode is fantastic for the football fans that like to dig deep into the meat of the game. We can choose a player, coach, and even legends of the game. Phil Sims and Jim Nantz take on the roles of the announcers and color commentators this season. Both of them do a fantastic job in Madden NFL 13.

The new physics engine in Madden NFL 13 is amazing. Players react in a more realistic fashion. I noticed my running backs stumbling, catching themselves and going on. Other times they would be tripped up and lose their balance. This allows Madden NFL 13 to be close to the real thing. We also see different kinds of contact thanks to the muscle tension.

I am assured that Tebowing is in Madden NFL 13. I took Tim Tebow and traded him to the Seahawks in Play Now mode. Jacked up his stats and re-ordered to get him as the starting quarterback. I played the Super Bowl and had him throw for a touchdown and run one in. I went over the replays over and over again. There was no Tebowing in two instances where I would have expected it.

I also am confused why Madden NFL 13 did not put the highest rated Quarterback at the top. I modified Tebow's stats to a 99 over all rating. Matt Flynn was in the seventies and kept showing up as the starting Quarterback. I also did not notice much of a bump in Tebow's play even after moving him up twenty plus overall rating points.
Families are going to have to get used to the new Receiver Awareness. This makes passing even more difficult in Madden NFL 13. If the receiver is not looking for the ball he will not try to catch it. The good news is the realism is added to the defense as well. They have to see it to react to it. I ran right by some defenders because their backs were to the running back. This level of realism is greatly appreciated here at Family Friendly Gaming.
Long time Madden fans will appreciate the Legacy Score and Hall of Fame in Madden NFL 13. Your Connected Career is where you can truly excel and be named to the Hall of Fame. Social fans will appreciate the League News and Virtual Twitter. If that were not enough then you may want to check out Madden Ultimate Team and Madden NFL Gridiron club.

When EA purchased exclusive rights to make NFL related football games, there was a lot of concern among gamers. They worried the games would wind up stale and EA would have little reason to push the envelope. Madden NFL 13 is another stepping stone proving those worries were unfounded. EA continued to improve this franchise in meaningful ways.

It can be easy to armchair Quarterback Madden NFL 13. There may be an issue here and there. I chronicled a few in my review. Running is actually pretty easy to do in Madden NFL 13. The announcers can say things that do not always fit the situation. Or they can keep saying the same thing. All in all Madden NFL 13 is a wonderful football game that improves the franchise in meaningful ways. I am so thankful I was able to play and review this sports game.
- Paul
Graphics: 93%
Sound: 91%
Replay/Extras: 95%
Gameplay: 92%
Family Friendly Factor: 94%
System: Xbox 360/PS3
Publisher: EA Sports
Rating: 'E' - Everyone
Want more info on this product, or the company that made this product?
Set web browser to:
Link

Please click on one of these picture(s) to purchase this game and support us. Family Friendly Gaming is given a 5% commission on all orders.


Got a question, comment, or a concern regarding this review?
Email them to:
pbury@familyfriendlygaming.com