Learn American Sign Language
SCORE: 84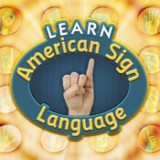 The iPhone/iPod Touch has a nice selection of educational programs. In this review I will be taking a look at Learn American Sign Language from Selectsoft. They provided a code to Family Friendly Gaming, and I was able to step up and use this app. I love the idea of easily learning sign language. This app retails for $2.99. The core of Learn American Sign Language is a series of videos where signs and sign language are explained. The second section of Learn American Sign Language is testing your knowledge. I advise you guys to learn before you try and test. I know some think they can test well before going through the material. Do that and you will experience some humility.
The videos in Learn American Sign Language look good, and have a clean frame rate. The signs are easy to see as they are accentuated. She also tells viewers how to do each sign and how to do them. The graphics have a real medical feel to them, but the host takes us through multiple different areas.
The audio in Learn American Sign Language is astonishing. I enjoyed how the host took me through the various signs and real world application. As I learned with this app I felt like I was in a pleasant class with a very nice teacher. All ages of the family can learn from Learn American Sign Language.
The price of Learn American Sign Language is adequate in my meager opinion. There is a fair amount of content that will help families learn some useful sign language. Bear in mind that you will not learn all sign language that exists. Learn American Sign Language is not the know all, end all of sign language. It will give you a very good start. The testing will help family members realize how much they have learned and/or how much more they can learn.
The touch screen controls work masterfully in Learn American Sign Language. There is not a lot to do since the majority of this app is videos. The testing screens contain enough choices to give family members a decent chance of guessing right. Sitting and watching videos on the iPod Touch/iPhone felt very natural to me, even though the screen is very tiny. The host gives the viewers enough time to try out the different signs. It will take a few tries to learn some of these, and others are easy to pick up.
Sign language is one of those wonderful things that helps us communicate with the deaf. Learn American Sign Language can help us level a playing field for a group of disabled. I find it wonderful that Selectsoft created this series of videos, and released it on this hand held device. I would like to see additional educational products in this same vein. I enjoyed getting to review this app.
- Mark
Graphics: 80%
Sound: 90%
Replay/Extras: 80%
Gameplay: 85%
Family Friendly Factor: 85%
System: iPhone/iPod Touch
Publisher: Selectsoft
Rating: '4+' for 4+
Want more info on this product, the company that made this product?
Set web browser to:
Link

Got a question, comment, or a concern regarding this review?
Email them to:
GameReviews@familyfriendlygaming.com