FlingSmash
SCORE: 63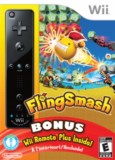 FlingSmash is a side scrolling action adventure platformer that has one unique key feature. That unique key feature is your hero is a ball like creature that is almost always in motion. I used a Wii Motion Plus controller (editor: which came in the purchased package) to bat him around the screen. I was also given the choice to hit a female ball character around as well. So FlingSmash is part ping pong, and part Nintendo platformer.
Some may look at the failing score and think I am hating on FlingSmash. Nothing could be further from the truth. I had high expectations for this game, and hoped it would be another great one from Nintendo. They have brought numerous innovations to the industry. But no company can be perfect all the time. There was only one perfect person throughout all of time, and we crucified Him.
There are numerous bright colors in FlingSmash. This game bounces along as the player demolishes the various blocks that are in the way. It was so nice of the villains to put those in our path. It gives us something to bounce off of.
The music in FlingSmash is okay. There is some dialogue about a great palm tree, and spirits. This religious content was not regionalized for America. But then that is one area that gets neglected in many video games. In fact the industry has a long history of teaching gamers eastern religious beliefs. Sad thing is too few are even aware they have been indoctrinated.
The length of FlingSmash is wanting. There should have been many more levels to play. The main replay mechanism is to beat a level you did not get enough medals in. I hate this kind of forced replay. It is one thing to go back to an area after getting a new skill, but this is not that. I spent my money on FlingSmash, and would like a refund.
The game play in FlingSmash is frustrating. I got so annoyed with batting this guy around. I question the accuracy when I routinely missed areas I was targeting. The game scrolls along which can be lame if you miss something. You can't go back. Just have to replay the entire level. This frustration turned into anger because of how FlingSmash was designed.
I get the evil character comes to steal the magical powers from an island. I get stopping them. I don't get the religious overtures that are in FlingSmash. They were not needed, and should have been left at the door.
- Luke
Graphics: 67%
Sound: 68%
Replay/Extras: 65%
Gameplay: 52%
Family Friendly Factor: 63%
System: Wii
Publisher: Nintendo
Rating: 'E' for Everyone
{Mild Cartoon Violence}
Want more info on this product, the company that made this product?
Set web browser to:
Link

Got a question, comment, or a concern regarding this review?
Email them to:
GameReviews@familyfriendlygaming.com