Fifa Soccer 13
SCORE: 70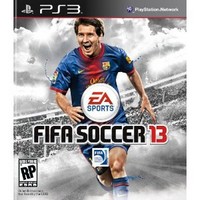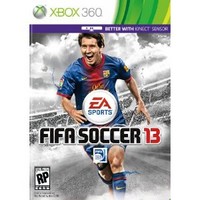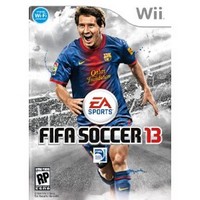 I can barely believe it has been a year since our last Fifa Soccer review. But it has been, and now it is time to dig into Fifa Soccer 13. Family Friendly Gaming was provided a copy on the Xbox 360 for this review. You know what that means right? Kinect commands are now a part of the game.
Expect authenticity when we are talking about Fifa Soccer 13. There are thirty leagues, five hundred officially licensed clubs, and more than fifteen thousand players. Those numbers can be overwhelming. At least they are to me. Expect all of your favorite modes to make a return in Fifa Soccer 13.
The computer intelligence has been improved. Those defenses are tough now. They will get in position to stop your scoring drive. Your players will work on getting into position for the score. The ball dribbling has also been improved. It took me some time to get used to the nuances of that new control. Especially when trying to slip by a defender.
There are thirty-two new little mini games in Fifa Soccer 13. These are the skill games. They are a great place for new soccer players to learn how to control the ball. Doing well in these will drastically improve your in game play. I recommend that families start their game time here before moving into one of the other modes.
Seasons, Career, Match Day, Football Club, and more will keep hardcore gamers addicted for months. Fifa Soccer 13 has a strong online presence. Plus there is an app for the iPhone so players can access their team, search for live auctions, and bid to win new players. This allows players to stay connected.
Which brings me to Kinect. There is voice recognition in Fifa Soccer 13. Just be sure you can speak English to that particular feature. The first touch control will excite some, and annoy others. The ball is less predictable. Players will not always perfectly get the ball and be ready to go. Multiple factors like pressure, trajectory, and velocity will impact this. The better the player the better their first touch control.
The players can look a little small in the main mode. Not every song in the EA TRAX was to my liking. I was able to go in there and turn songs off. I am impressed with how many songs there are in Fifa Soccer 13. The fans in the stands did not impress me. I also had to practice (a lot) to get the most out of the tactical free kicks.
Madden NFL 13, and NHL 13 both had big leaps forward this year. Because of this I had high expectations of Fifa Soccer 13. It is slightly better in some things, and others just did not impress me like I was hoping. There is a lot in Fifa Soccer 13 that is wonderful. The announcers commentary, the deep RPG like system in certain modes, all of the different modes, and more. Fifa Soccer 13 is a solid entry into the soccer genre.
- Frank
{SHOCKING UPDATE: Men kissing other men on the lips has been discovered in this game.}
Graphics: 60%
Sound: 81%
Replay/Extras: 70%
Gameplay: 80%
Family Friendly Factor: 60%
System: EA Sports
Publisher: Wii/PS3/Xbox 360
Rating: 'E' - Everyone
Want more info on this product, or the company that made this product?
Set web browser to:
Link

Got a question, comment, or a concern regarding this review?
Email them to:
GameReviews@familyfriendlygaming.com