Fifa Soccer 13
SCORE: 77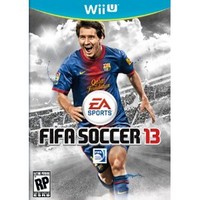 Fifa Soccer 13 on the Wii U may be the best version of Fifa Soccer 13. EA Sports included some neat features that include the Wii U Gamepad. The first aspect is the ability to play Fifa Soccer 13 completely on the Wii U Gamepad. Fifa Soccer 13 can also be used in conjunction with the television set. The touch screen opens a whole new world of features.
Graphically Fifa Soccer 13 looks nice. The character models look good, and they animate fantastically. EA Sports assures me that the extremely controversial deviant kissing bug has been fixed. The various kinds of kicks the players can do is astounding. I love going into the replay and seeing the footwork.
The announcers have very distinctive voices. Their accents are heavy, but it is easy to tell what they are saying. They are also getting closer to the real thing. I like being able to turn off songs that are not to my personal liking. I love hearing the excitement when I score a goal, and the different little comments from the announcers.
Fifa Soccer 13 on other home consoles is a difficult game. I was having problem playing Fifa Soccer 13 until I started to use the touch screen controls. Scoring a goal is much easier that way. In fact I went from being behind by a goal to going up by two goals. This kept me engaged and interested in the game.
I do have one small problem with the controls in Fifa Soccer 13. When I use the touch screen to try and score a goal, the entire screen is filled with the net. This allows the player to tap where they want to kick the ball to try and score the goal. Problem is it also blocks the players on the field, and we can't see if another player is in our way or not.
Fifa Soccer 13 is a solid launch title on the Wii U. It is more than just a port, as EA included additional features. The online modes are still prevalent once you sign up for an account with EA. If you are looking for some soccer action on the Wii U, then you should take a good look at Fifa Soccer 13.
- Paul
Graphics: 79%
Sound: 80%
Replay/Extras: 78%
Gameplay: 80%
Family Friendly Factor: 70%
System: Wii U
Publisher: EA Sports
Rating: 'E' - Everyone
Company provided this product

Want more info on this product, or the company that made this product?
Set web browser to:
Link

Please click on one of these picture(s) to purchase this game and support us. Family Friendly Gaming is given a 5% commission on all orders.


Got a question, comment, or a concern regarding this review?
Email them to:
pbury@familyfriendlygaming.com