Doodle Plane
SCORE: 66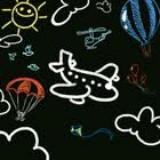 I had some people recommend Doodle Plane to me. They thought I would love it, and it would be one of the top tier games I reviewed for Family Friendly Gaming. Obviously they have not read enough of our reviews. Players fly an airplane from one side of the screen way down to the other side. Doodle Plane scrolls so wonderfully for us. There are three people you can save. They are parachuting down and for some reason can not touch the ground, buildings, or whatever else is in the way.
I balked at the graphics in Doodle Plane. Everything looks like it was drawn with a crayon. I may not be the most artistic chap on the planet, but this style does nothing to help this game. In fact it detracts. The plus side is the violence does not look as bad. What violence? Crashing into things like building, helicopters, planets. You know you will crash into about everything in this game. I did.
The music in Doodle Plane is okay. It did not do much for me. At times I found the special effect sounds to be annoying. They irritated me to the point of turning them completely off. I like how Doodle Plane encourages us to save others.
I think it is cheap for games to base their replay value on replaying the same level. Doodle Plane is so difficult, and has such control problems that you will literally play the same level over double to triple digit times. That is if you can handle the frustration of it. I spent ninety-nine cents on this app, and feel like I wasted my hard earned money.
Did somebody mention controls? Why yes I did. Gamers control their speed and their height. Finding the right combination is like trying to break into a safe value by turning the knob. I constantly struggled with getting my plane into the right places at the right times. It is very common in Doodle Plane to nick something and have to start completely over again. Do not get me started on trying to land.
Doodle Plane reminds me why they do not allow certain craft to fly over congested areas. I crashed more times than I would like to count. Doodle Plane is a major disappointment for me. I did not enjoy playing this app, and have now removed it from my iPod Touch. Please avoid Doodle Plane like a crashing airplane.
- Mark
Graphics: 63%
Sound: 70%
Replay/Extras: 68%
Gameplay: 52%
Family Friendly Factor: 77%
System: iPhone/iPod Touch
Publisher: Chitralekha Productions
Rating: '9+' for 9+
{Infrequent/Mild Cartoon or Fantasy Violence}
Want more info on this product, the company that made this product?
Set web browser to:
Link

Got a question, comment, or a concern regarding this review?
Email them to:
GameReviews@familyfriendlygaming.com