Crazy Strike Bowling
SCORE: 81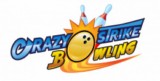 I have been one of those here at Family Friendly Gaming very down on the PS Move and PS Eye combination. It's not that its just a clone of the Wii Remote that is barely better. It's not that the Kinect leap frogs it in so many ways. I have not been impressed with games on this peripheral. Crazy Strike Bowling impresses me.
What is so stunning about that? It comes from Aksys Games. That means Crazy Strike Bowling is third party software. Normally the first party software is the best on any given system. As you may have gathered Crazy Strike Bowling is a bowling game. There are a variety of characters in this home console video game that we can bowl with.
The visuals are crisp, clean, clear, and colorful. Certain female characters wear revealing clothing. They do not hop all around when they win like in some other bowling games. Crazy Strike Bowling works on being family friendly. Yes certain female characters could have dressed better. Something for a sequel perhaps. I have seen worse animations in other bowling games, and am impressed with how Crazy Strike Bowling handles it.
The music and special effect sounds enhance Crazy Strike Bowling. I love getting strikes, turkeys, and even spares. Characters in Crazy Strike Bowling exhibit unhappiness when we fail to perform. Things like gutter balls for example. Crazy Strike Bowling is kind to left and right handed players. It asks in the set up process which each family member happens to be.
Family Friendly Gaming was provided a download code for this review. With that FCC statement out of the way, I can now say that I feel Crazy Strike Bowling is worth the money. There are multiple modes, tons of unlockables, and a lot of bowling fun to be had. I am impressed with how smooth Crazy Strike Bowling is.
Not only does Crazy Strike Bowling play smoothly, it also can be a quick bowling experience. With the press of a button we can skip through celebrations after our latest strike. We can quickly get to the next frame and keep bowling. Crazy Strike Bowling is faster than a real bowling alley by far. My one complaint about Crazy Strike Bowling is how small the score is after we complete a game. I want that score up there on the screen in big bold letters. Especially when it is a good one.
- Frank
Graphics: 70%
Sound: 80%
Replay/Extras: 90%
Gameplay: 88%
Family Friendly Factor: 77%
System: PS3
Publisher: Aksys Games
Rating: 'E10+' - Everyone 10+
{Suggestive Themes}
Want more info on this product, or the company that made this product?
Set web browser to:
Link

Got a question, comment, or a concern regarding this review?
Email them to:
GameReviews@familyfriendlygaming.com