Bomberman Act Zero
SCORE: 51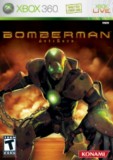 There are some video games that should have never been made. Bomberman Act Zero is one such game. This Xbox 360 game was an attempt to take Bomberman in a gritty, and dark direction. Why? Oh I know, because there are out of touch media outlets who want everything to be macabre and morbid. Bomberman Act Zero is an attempt to take the franchise in more of a 3D direction, and focuses on the multiplayer aspect. Meaning the single player campaign is very close to worthless. I apologize beforehand if you think any of my opinions on this home console title are harsh.
The graphics in Bomberman Act Zero are dark, depressing, and annoying. Players witness other characters dying by being burned to death. Oh and you get to watch your own character die that way as well. I have to come back to something. Why? If that were not disturbing enough, there is sexual content in this game. Double Why? It is like everything that could have been done to offend families was included, and everything families want was excluded.
The computer voice in Bomberman Act Zero made my skin crawl. It is annoying beyond belief. The music in Bomberman Act Zero made my head hurt. I do mean that literally. I was very pleased when I was done playing Bomberman Act Zero. Want to know the real kicker? Well that is coming up my friends.
I bought Bomberman Act Zero for the Xbox 360. I am seriously regretting that decision. I do not feel this game is worth the money - at any price. Bomberman Act Zero is essentially a torture. Please avoid this game.
The game play in Bomberman Act Zero is boring. Plant some bombs to blow away the obstacles. Try and blow up the other players. This does not even orbit around planet fun. The computer controlled characters are either anti-intelligent, or insanely difficult to defeat.
Watching characters burns alive, the sexual content, the bad voice, and throbbing music are the bad side to Bomberman Act Zero. The good side is, well hmmmm. The good side is the numerous explosions light up the dark mazes of this Xbox 360 video game. We need no sequels like Bomberman Act Zero ever.
- Sam
Graphics: 51%
Sound: 55%
Replay/Extras: 60%
Gameplay: 40%
Family Friendly Factor: 50%
System: Xbox 360
Publisher: Konami
Rating: 'T' - Teen
{Fantasy Violence, Suggestive Themes}
Want more info on this product, the company that made this product?
Set web browser to:
Link

Got a question, comment, or a concern regarding this review?
Email them to:
GameReviews@familyfriendlygaming.com