Bible +1
SCORE: 92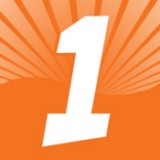 I have never had an interest in staying on the cutting edge of technology or keep up with the Joneses. I can almost always get things cheaper thanks to not being an early adopter. The downside is people can be enjoying great tools way before me. I recently asked Yolanda to find me a Holy Bible on the iPod Touch. My only real requirement was I wanted the NIV version. We had to pay more for it than a King James version but that is okay with me. Bible +1 claims to be free, but it costs to actually get a Bible in it. The King James version is ninety-nine cents, and the NIV is $6.99. Yeah that is quite the price variance.
I tried the Bible +1 at church, and have been pleasantly surprised. I can whip out my iPod Touch and get to the verses just as fast as our brothers and sisters in Christ who use the real world book version. In some cases I was able to get to the verses before them. Now some people look at me strange when they see me pull out the iPod Touch, but that just makes me smile.
The graphics in Bible +1 make it very easy to read. There are some colors used here and there. Highlighting is a major star in Bible +1. There are various colors to be utilized. Scriptures can be touched and they will receive a specific highlight. This is great for being in Sunday School and reading a verse to the entire class. In fact I was showing my Connections Class Leader this app, and how impressed I am with it. He jokes with me about playing games during class.
There are no sounds I found in Bible +1. However the lessons in the verses is fantastic. Everyone can use this app to learn about the best way they can live their lives.
I found the touch screen navigation's in Bible +1 are very intelligent. I could easily move around the different screens, and bring up my previously viewed versus. Bible +1 also contains multiple devotions on numerous topics. They are not devotions like mine - just a listing of scriptures, but still. Bible +1 is one of the ways technology can improve our lives. I can read a verse or two while going to the bathroom or waiting for a computer to boot up.
Bible +1 is one of the coolest apps I have seen in a long time. I expect to be using this app for years to come. I have learned that technology can improve our lives. I appreciate this version of the Holy Bible along with all the bells and whistles that come with it. The price is a little steep, but I feel it is worth it. They have multiple versions for sale, which is the closest thing to a sequel.
- Paul
Graphics: 90%
Sound: 85%
Replay/Extras: 97%
Gameplay: 87%
Family Friendly Factor: 100%
System: iPhone/iPod Touch
Publisher: Just1Word
Rating: '4+' for 4+
Want more info on this product, the company that made this product?
Set web browser to:
Link

Got a question, comment, or a concern regarding this review?
Email them to:
pbury@familyfriendlygaming.com