Batman Under the Red Hood
SCORE: 77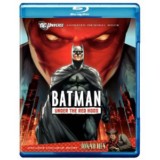 I remember reading the storyline in the Batman comics about the Red Hood. I was very interested to see how Bruce Timm would handle the material. And yes I have been very disappointed with how he has handled so many other franchises since Justice League Unlimited. I hoped this one would be better. Generally it is. There are some serious warnings about this one though.
The animation is top notch in Batman Under the Red Hood. Since it is a Batman title it is on the darker side. There is a fair amount of blood, and some disgusting gore. Blowing off a robots head is more than over the top. Then using that robot in interrogations takes it further into repulsiveness. Joker, Red Hood, and Black Mask have no problems murdering on a whim. Thankfully much of the violence is not shown on the screen - which is something I personally appreciated.
Batman Under the Red Hood includes an amazing amount of humor. I lost track of how many times I laughed at different lines. Nightwing, Joker, and even the Red Hood have memorable lines. Batman even gives some comments that are seen as humorous. Batman Under the Red Hood is the closest I have seen Bruce Timm return to JLU, and it is nice to see.
I purchased the Blu-ray version of Batman Under the Red Hood which is packed with bonus features. My favorite is the four episodes of the Batman Animated Series. This is something that is safe for children to watch. Keep them away from the Jonah Hex short - which fits under the disgusting category. I also appreciated the behind the scenes information on the characters and what led up to A Death in the Family.
Batman Under the Red Hood is filled with plot twists and turns. It is a real shame they rush the story along. It would have been nice if they strung the viewer along just a bit longer. Different people will come to the conclusions at different points. Suspecting something and having the evidence is an entirely different thing. With that said the plot twists and turns are classic comic books. I enjoyed the storyline, and marvel at how intricately involved it is.
Parents need to pay attention to the PG-13 rating of Batman Under the Red Hood. There is some repulsive content in Batman Under the Red Hood. There is also a lesson in failure. Batman has to deal with failure as well as why he will not kill. Even a psycho like the Joker. There are two major philosophies that clash in Batman Under the Red Hood. In my opinion this is the best work from Bruce Timm since JLU. I hope he continues with this trend.
- Paul
Graphics: 68%
Sound: 78%
Replay/Extras: 89%
Gameplay: 79%
Family Friendly Factor: 70%
System: DVD/Blu-ray
Publisher: Warner Bros
Rating: 'PG-13' - Parents Strongly Cautioned {Violent Content and some drug references}
Want more info on this product, the company that made this product?
Set web browser to:
Link

Got a question, comment, or a concern regarding this review?
Email them to:
pbury@familyfriendlygaming.com