Backbreaker
SCORE: 64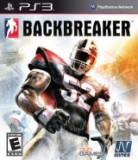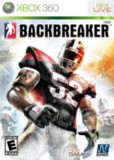 Backbreaker is a football arcade/simulator from developer Natural Motion that showcases groundbreaking player animations due to new development software. I have been looking forward to this title for quite some time, and on some levels it did live up to expectations. However, there are too many design flaws and setbacks to keep Backbreaker from being a real contender.
Most football fans and sports gamers think of EA's Madden when looking at video game football. That being said, most critics and gamers have Madden in mind when playing a football game from another developer. Having played Madden, 2K and other football simulators over the years, I do not think it is fair to compare 505 Games' Backbreaker to those previously mentioned franchises. Backbreaker is a different type of football game and does not try to copy anything from EA's Madden. What it does do is provide a refreshing break in the video world of football with a new gaming style some can really appreciate.
Backbreaker does not include the NFL or NFLPA license so do not expect to see any 'real' players or teams. What the game lacks in license's it makes up for in creativity. Gamers can spend hours creating your team from scratch – including logo, uniform, conference name and division. There is a plethora of editing and creating options that will keep the fantasy sports fan coming back for more and more.
The game itself can be really enjoyable and really frustrating at the same time. Watching the breath-taking animations is amazing, but hindered by the lack of play-by-play commentary or even a stadium announcer. The soundtrack leaves a lot to be desired, especially since the same POD song is played at every kick-off. There are also in-game gaffes that are inexcusable. I once blocked a punt and returned it for a touchdown, only to have it called back for roughing the punter. And even though the opposing team got an automatic first down and the ball back, I got to keep the six points.
Backbreaker has a variety of modes including: exhibition, league play and online play. However, the best part of Backbreaker is Tackle Alley. In this mode gamers run the length of the field in an attempt to get in the endzone while avoiding would be tacklers. Each level proves more difficult than the previous. Strategy and skill are involved in this fun and almost addictive mini game. But the fun, edge-of-seat excitement is missing from the actual football games. Developer Natural Motion went for a more on-the-field perspective with the camera angle. This works adequately on Offense, but provides nothing more than headaches on the Defensive side of the ball. I actually found myself quitting multiple exhibition and league games to go back to Tackle Alley.
Two players can really enjoy time playing Tackle Alley. This mini-game is a great way to spend time with friends or the guys in your family. I would recommend Backbreaker to fathers and sons that enjoy video games and football, if for nothing more than Tackle Alley.
Overall, Backbreaker is fun and enjoyable because of a mini-game (Tackle Alley). And while there are numerous design and gameplay flaws, there is a good foundation here for what could be a successful franchise. I would encourage 505 Games and Natural Motion to build on what they have with Backbreaker and they could deliver a championship contender.
- Alan
Graphics: 67%
Sound: 60%
Replay/Extras: 70%
Gameplay: 55%
Family Friendly Factor: 73%
System: Xbox 360/PS3
Publisher: 505 Games
Rating: 'E' - Everyone
{Tobacco Reference}
Want more info on this product, the company that made this product?
Set web browser to:
Link

Got a question, comment, or a concern regarding this review?
Email them to:
GameReviews@familyfriendlygaming.com