Aliens in the Attic
SCORE: 69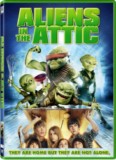 I was really excited to see Aliens in the Attic. And then I saw it. You know how I talk about thinking ill of a product and it shows its worth? Well Aliens in the Attic goes the opposite direction. I thought it would be a good family film. Sadly I was wrong on so many fronts. Children from two brothers families come together to enjoy some nature in a lake house. Sun, fishing, and fun are the order of the day. The children - especially teenagers are less than thrilled about it. Aliens land in the attic, and start an invasion. They have the ability to shoot darts into the necks of adults and control them with a mechanism. So the kids in their wisdom decide to keep the invasion from their parents.
The teenage daughter spends part of the movie in a bikini. This is the majority of the sexual content of Aliens in the Attic. There is violence as the kids and humans fight it out. Two controlled adults have a video game styled fight as well. I would hate to see what happened to their deposit based on how trashed the lake home is.
The disappointing aspect of Aliens in the Attic for me is the language. There really is no need for that in a film that is portrayed as family friendly. Let me be blunt - it falls short in this department. On top of that there is tons of attitude in Aliens in the Attic. The lack of respect for elders is shocking. It is my hope that real world kids will not emulate the kids in Aliens in the Attic in terms of attitude.
We purchased this DVD for five dollars on sale at a local retailer. Numerous bonus features are included as well. An Alternate Ending, Deleted Scenes, Gag Reel, Featurettes, and an Animated Short. Aliens in the Attic excels in that department.
The storyline in Aliens in the Attic is very predictable. The kids deceive their parents while fighting off the aliens. The lying boyfriend is humiliated in numerous ways. I do appreciate the main character realizing how important it is to be smart. There are a few humorous sections in Aliens in the Attic.
I find it sad that in the American schools there is a movement to dumb down our kids. Not only that, but it is cool to be stupid. I was a brain in school, and I did not care what others thought of me. I wish Aliens in the Attic had taught that. Instead it teaches to disrespect your parents, take care of things yourself, and save the day. I hope this franchise stays away from sequels in the future.
- Paul
Graphics: 65%
Sound: 68%
Replay/Extras: 87%
Gameplay: 70%
Family Friendly Factor: 55%
System: DVD
Publisher: 20th Century Fox
Rating: 'PG' for Parental Guidance
Suggested
{Action violence, some suggestive humor and direction}
Want more info on this product, the company that made this product?
Set web browser to:
Link

Got a question, comment, or a concern regarding this review?
Email them to:
pbury@familyfriendlygaming.com