Active Life Explorer
SCORE: 93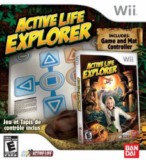 I love video games that get us up off the couch. The video game industry has a horrible public image, so it is great to see games like Active Life Explorer. I can use games like this one as evidence to the good in the industry. Sure there are plenty of bad games out there. But I prefer to spend as much time as possible focusing on the good ones. Active Life Explorer on the Wii is one of those good ones. This is also the third Active Life game we have reviewed at Family Friendly Gaming. This time you are a treasure hunter. Active Life Explorer blends a video game creative concept with exercise masterfully. Active Life Explorer feels more like a game that has exercise as part of the game play instead of an exercise activity that has some gaming elements to it.
Active Life Explorer is alive with wonderful colors that bring joy to the lives of all that play it. I love the approachable characters in this home console video game. I also like the various activities and celebrations. The only down side to Active Life Explorer is there is some violent content. Characters can get damaged by various things. This slows the player down. An example would be not ducking on the top of a train before meeting a low hanging bar.
I love it when games are encouraging. It is such a downer that so many are negative and discouraging to players. Active Life Explorer encourages players to do better. The music in fantastic and fits the theme of this Wii game. I enjoyed the special effect sounds because they bring such joy. The storyline is the most interesting of any of the Active Life games.
There are twenty-four games to unearth in the Free Play mode of Active Life Explorer. The Treasure Adventure is long enough to keep any intelligent gamer occupied for months. Up to eight family members can enjoy the Party Mode together. The Treasure Room and Treasure Trials will add to the life cycle of this Wii game. I spent my own money on Active Life Explorer and it was well spent.
The mat is a little different in this franchise than other mat based games. I found that it works like a dream. I was sweating while playing Active Life Explorer. I find that to be a very good thing. I love it when games challenge me in good ways. Active Life Explorer is a blast to play.
The main lesson in Active Life Explorer is to be active. Too many people spend too many hours sitting there doing nothing. Their girth grows, as well as their impatience. Active Life Explorer not only helps the devastated image of the industry, it also helps us be better. I would love to see sequels to this franchise in the future.
- Paul
Graphics: 90%
Sound: 89%
Replay/Extras: 90%
Gameplay: 95%
Family Friendly Factor: 92%
System: Wii
Publisher: Namco Bandai
Rating: 'E' for Everyone
{Cartoon Violence}
Want more info on this product, the company that made this product?
Set web browser to:
Link

Got a question, comment, or a concern regarding this review?
Email them to:
pbury@familyfriendlygaming.com