7 Wonders Ancient Alien Makeover
SCORE: 75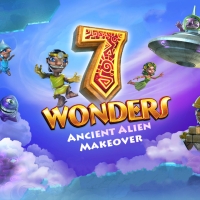 I have not played the 7 Wonders series in some time. The Cradle of franchise has taken my attention away. So it was nice to go back to it in the form of 7 Wonders Ancient Alien Makeover. This is the fifth game in the 7 Wonders franchise. And they went all sci-fi in it. With ancient aliens building wonders from the past.
7 Wonders Ancient Alien Makeover reminds me of the Ancient Aliens television show. Although this PC game is much better than that horrible television show. We build up an area in 7 Wonders Ancient Alien Makeover by earning coins. We can also complete buildings.
The first level starts out in the typical match three tiles. There are power ups that remind me of Walls of Jericho. We have to match a tile on every single space on the game board. Then we have to move the cornerstone from the top of the screen to the bottom. All of this has to be done before the timer expires.
7 Wonders Ancient Alien Makeover grants families three different difficulty settings. The harder the setting the more difficult it is to complete the levels. I enjoy building the different buildings in 7 Wonders Ancient Alien Makeover so I kept it on normal. I could have moved it down to easy.
So once we complete a level we go to a screen with the silhouette of a building. We put in pieces (starting with the foundation pieces) one at a time. When we have exhausted how many we can do, we play another level. This repeats until we finish it. Then we go back to the main screen where that monument is built, and we can purchase decorations for the screen. This is where 7 Wonders Ancient Alien Makeover reminds me of the Cradle of series.
The graphics are bright and colorful in 7 Wonders Ancient Alien Makeover. The music is nice. The whole alien theme is a little bit out there. I am not fond of having to move something from the top to the bottom after freeing every background space. I love the different power ups in 7 Wonders Ancient Alien Makeover.
- Yolanda
Graphics: 70%
Sound: 80%
Replay/Extras: 82%
Gameplay: 75%
Family Friendly Factor: 70%
System: Personal Computer
Publisher: Mumbo Jumbo
Rating: 'NR' - Not Rated
Want more info on this product, or the company that made this product?
Set web browser to:
Link

Please click on one of these pictures to purchase this game and support us. Family Friendly Gaming is given a 5% commission on all orders.

Got a question, comment, or a concern regarding this review?
Email them to:
craftiemom@familyfriendlygaming.com