3D Classics Excitebike
SCORE: 73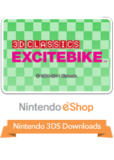 3D Classics Excitebike is a game on the Nintendo 3DS we were able to download for free. I volunteered to review this little game. This game does have 3D effects in it, but they are a tad disappointing in my opinion. The Excitebike franchise has a very long history in the video game industry. 3D Classics Excitebike is sort of a 3D version of the old NES title. Players race around a track with hills to launch themselves off of. Make a mistake and your biker will take a tumble. Then you have to wait for him to run back onto the track and get back on the bike. Since races in 3D Classics Excitebike are timed players want to avoid mistakes whenever possible.
Graphically 3D Classics Excitebike leaves mounds of dirt to be desired. Everything in 3D Classics Excitebike is tiny. The violence in crashing is present but the small images make it hard to discern. I did not see any blood or gore. Other racers can be the biggest issue in 3D Classics Excitebike. They caused me to crash over and over again. Thankfully there is a sole race mode.
The music and sounds in 3D Classics Excitebike are nostalgic. They do feel past their prime in a lot of ways. The engine revving sounds fit the theme of this game. I did not find any offensive sounds or words while playing 3D Classics Excitebike on the Nintendo 3DS.
3D Classics Excitebike was totally free to us and for us. So it was worth the price. If we had to put a price tag on this game it would not be very high. There are a few races to run, and players can create their own tracks. After that there is little reason to replay 3D Classics Excitebike. Which is sad because this game could have been something special.
The most frustrating part of 3D Classics Excitebike is how it controls. This game is very touchy about how you play it. At times I did jumps fine, and others watched my guy cart wheel from a crash. There is a very fine line between doing it right and crashing. 3D Classics Excitebike is not very forgiving to players. Some jumps I would go flying, and others barely launch. I became frustrated playing this game.
The 3D effects in 3D Classics Excitebike seem to shift the game just a little. Bringing it to 2D just flattens it out. I am not impressed with the 3D in this game. I learned to race as quickly as possible, and avoid the other racers. The various lanes should have helped avoid the other racers but were not as helpful as one would think.
- Frank
Graphics: 70%
Sound: 75%
Replay/Extras: 80%
Gameplay: 67%
Family Friendly Factor: 73%
System: Nintendo 3DS
Publisher: Nintendo
Rating: 'E' for Everyone
Want more info on this product, the company that made this product?
Set web browser to:
Link

Got a question, comment, or a concern regarding this review?
Email them to:
GameReviews@familyfriendlygaming.com