Yggdra Union
SCORE: 46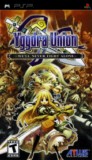 Yggdra Union is a lesser known Gameboy Advance (GBA) game that was ported over to the Playstation Portable (PSP). Atlus is an amazing publisher who sometimes finds the most obscure games and brings them to the American audience. This can be a good thing in some games, and at other times it is not received as well. Yggdra Union is a turn based strategy role playing game with cards. Before you freak out and think this is like Yu-Gi-Oh! know that Yggdra Union is different. The most difficult part about this PSP game can to start a battle due to the various unwritten rules related to who can have what, and what is and what is not allowed in a battle.
The graphics in Yggdra Union show their GBA roots, which is a real shame. The RPG Master can think of so many other older games that could have been ported to the PSP. Numerous female characters are wearing clothes that would lead to pneumonia, and there is also some nudity in Yggdra Union. Why? It has no place in this hand held game, and really hurts it. Yggdra Union also contains some violence as armies battle one another. The player sits and watches.
There is a very deep and sad place in my heart. That is the issue of language in many role playing games. Yggdra Union continues the black eye our favorite genre has by including so much bad language. The characters are trying to express stress in situations, yet they exhibit what little control they actually have. Loose cannons in language somehow have discipline in other areas of their lives. The voice acting is really good in Yggdra Union, which improves the score in this section.
Battles in Yggdra Union can be very difficult. Expect to replay some of them over and over again due to their difficulty. The computer gives itself an advantage, and uses it. Since this is a port the length of the story is a little shorter than other PSP games.
The controls are irritating to this reviewer. The card selection screens also bother the RPG Master. The difficulty limits Yggdra Union to a few making it non-inclusive. The fighting system is unique in Yggdra Union - too unique. The learning curve is very steep from the start. If you can get past it, then you may like it. The RPG Master prefers more traditional turn based strategy games like Shining Force.
So a bad king takes over an empire, and the princess escapes with her magical sword. She must defeat divine characters and show that humans do not need any powers over them. There are multiple endings in Yggdra Union, but the better ones involve the player taking on a god.
- RPG Master
Graphics: 40%
Sound: 50%
Replay/Extras: 67%
Gameplay: 35%
Family Friendly Factor: 40%
System: Playstation Portable
Publisher: Atlus
ESRB Rating: 'T' - Teen
{Mild Fantasy Violence, Mild Language, Mild Suggestive Themes, Partial Nudity}
Want more info on this product, the company that made this product?
Set web browser to:
Link

Got a question, comment, or a concern regarding this review?
Email them to:
GameReviews@familyfriendlygaming.com