Trine
SCORE: 70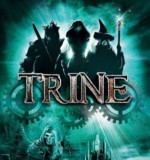 Trine is a really cool downloadable game on the Playstation 3 (PS3), and Personal Computer (PC). Players have three characters that they rotate around depending upon the situation. There is a female thief, a male knight, and a male wizard. They all get drawn to the same place which begins their journey. This game is played in 2D, and is side scrolling. There is some vertical movement so it is not just left to right.
The visuals in Trine blow me away. It is like looking at a painting done by some exceptionally talented artist. The level of details in the graphics are absolutely awesome. I enjoyed seeing the world that is Trine. That is the good news. There is some bad news. The female thief is not entirely modest, and could use improvement in that regard. There is quite a bit of violence in Trine. Puzzles are put in place to try and keep players from getting bored, but there is just too much violence for me.
The voice acting in Trine is really good. The narrator has a wonderful voice. The only other person I have heard who I think could do a better job is our editor in chief. I would love for him to do voice acting for some of these games. Certain characters obsess over alcohol and there is a bit of glorify of the devil in the bottle. Has anyone ever told you they made it big because of how much they drank?
Trine contain various achievements and enhancement items. The cost of Trine is a real problem. I wanted to get this game covered in Family Friendly Gaming. I do feel this game should have sold for half the price, based on the length of the game. For the same amount of money gamers can buy two or three comparable games.
I had to swap characters around all the time to get through certain puzzles. Also certain characters are better at fighting than others. My problem with this is I constantly cycled past the character I wanted. Otherwise the controls in Trine are good. The killing of these creatures over and over again became very old extremely quickly.
Trine takes a fantasy world where drinking is glorified, and going on a quest to save the world against a great evil is the order of the day. These concepts come from the past that I would rather forget about. Instead I enjoy dwelling on games that make our lives better, and make our industry look good. Any sequel needs the bad content cleaned up.
- Luke
Graphics: 70%
Sound: 69%
Replay/Extras: 76%
Gameplay: 74%
Family Friendly Factor: 61%
System: Playstation 3/Personal Computer
Publisher: Nobilis/Southpeak Games
ESRB Rating: 'E10+' for Everyone 10+
{Mild Fantasy Violence, Use of Alcohol}
Want more info on this product, the company that made this product?
Set web browser to:
Link

Got a question, comment, or a concern regarding this review?
Email them to:
GameReviews@familyfriendlygaming.com