Transformers Dark of the Moon
SCORE: 64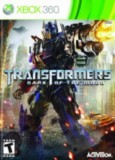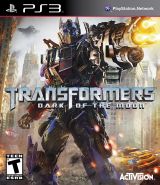 Transformers: Dark of the Moon is the movie tie-in game for the upcoming summer blockbuster of the same name. The Transformers brand has enjoyed a rebirth of sorts in the video game industry with last years War for Cybertron – from High Moon Studios and Activision. With this new excitement and momentum from War for Cybertron, video game experts and Transformers fans had high hopes for TF: Dark of the Moon, especially with High Moon and Activision teaming up again.
Unfortunately, time is not a friend to the developers of movie tie-in games. Too often the developers have too little time to hash out all of the little things that make a truly great game. And TF: Dark of the Moon falls victim as so many other movie tie-in games have before it. There are no major flaws that jump out you, just a feeling that the game is incomplete. For instance, the campaign is only 4-5 hours long. New additions (i.e. Stealth Force mode) are exciting and have potential, but lack the necessary polish.
TF: Dark of the Moon the video game is a prequel of sorts to the upcoming movie. I was anticipating the story and game prologue to see what the details would be. But after a short cut-scene or two and a pretty bland story, I was left disappointed. Not sure if it was timing or the input of those associated with the movie, but the story fell completely short of the standard set by War for Cybertron. On a more positive story note, the voice acting was fantastic - as most of the movie voice actors reprise their roles for the game.
In addition to the great voice acting, the character models looked really well in both robot and vehicle modes. As mentioned, there is a new mode called "Stealth Force" mode. Stealth Force is a hybrid of robot and vehicle modes that provides additional firepower and defenses. With such a focus on this new mode, the game feels almost like it was designed around it. While in Stealth Force mode, you are almost indestructible so there is little reason to transform into either robot of vehicle mode. I would have liked for Stealth Force to be more an accessory rather than a necessity.
TF: Dark of the Moon does include the standard online multi-player modes current gen gamers have come to expect. Transformers' fans will find the game entertaining in regards to the action and character transformations. Others, however, may find little reason to keep playing TF: Dark of the Moon. Parents need to be aware that TF: Dark of the Moon is an action adventure game that includes third person shooting and one-on-one melee combat. The shooting and melee is robot-on-robot, so it is unlike other shooters that feature humans killing other humans. Regardless, it is rated Teen due to violence.
Overall, TF: Dark of the Moon is too short and lacks the polish of a truly great game. There are those fathers that may be fans of the franchise and want to play with their teenagers, but it is definitely not for younger gamers. TF: Dark of the Moon does include some great new additions to the Transformers franchise (i.e. Stealth Force) that I hope will be carried over into future installments, but unfortunately it does fall short of its potential.
- Alan
Graphics: 58%
Sound: 80%
Replay/Extras: 60%
Gameplay: 70%
Family Friendly Factor: 50%
System: Xbox 360/Playstation 3
Publisher: Activision
Rating: 'T' for Teen
{Violence}
Want more info on this product, or the company that made this product?
Set web browser to:
Link

Got a question, comment, or a concern regarding this review?
Email them to:
GameReviews@familyfriendlygaming.com