The Flying Dutchman
SCORE: 84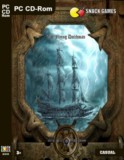 There are many games on the market today that challenge the inner detective in all of us. But for the price and ease of play you will be hard pressed to find one more enjoyable than The Flying Dutchman, from Xing Interactive. The Flying Dutchman combines the hidden object genre with a mystery plot surrounding a legendary Ghost Ship. This spooky ship that sails forever without docking is known as The Flying Dutchman. Your job is to solve the mystery around this ship by finding clues hidden in various places on the given map.
The presentation of The Flying Dutchman is very user friendly. Menus are easy to follow and allow for quick transition from one screen to the next. Gamers will find using the map painless as well. The graphics and location displays are well-colored and present nice details. Each map location contains hidden objects that have to be located within a designated time period. The hidden objects are integrated into the environment and require a keen eye to find. Once all of the required objects are located, the gamer is required to organize photos (of the environment) in order to display a clue about the mysterious The Flying Dutchman. The clue is then logged in your notebook.
The Flying Dutchman is appropriate for all ages. However, younger gamers that may not be able to read and comprehend as well as others will need an adult or older sibling to read through the notes and list of hidden objects. That being said, it could present a great time for parent/child bonding. When playing The Flying Dutchman, parents can also discuss perseverance (because the younger ones may want to give up during the more difficult maps).
Xing Interactive did a good job of taking the hidden object genre and adding some mystery to make The Flying Dutchman fun and challenging. I would recommend this all PC gamers that enjoy hidden object games, and even to those looking for something new and user friendly.
- Alan
Graphics: 82%
Sound: 80%
Replay/Extras: 78%
Gameplay: 86%
Family Friendly Factor: 94%
System: Personal Computer
Publisher: Xing Interactive
ESRB Rating: 'E' for Everyone
Want more info on this product, or the company that made this product?
Set web browser to:
Link

Got a question, comment, or a concern regarding this review?
Email them to:
GameReviews@familyfriendlygaming.com