System Mechanic 10.5
SCORE: 86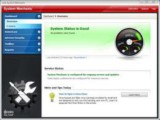 Family Friendly Gaming has historically not done a lot with software on the Personal Computer. From time to time our legendary leader talks one of us into reviewing a product on the Personal Computer. This time the WMG agreed to review this product. The good news is it is a piece of software that is very helpful. Whether you need to improve the performance of your machine for gaming, or doing homework - System Mechanic 10.5 will help you out.
The overall look and feel of System Mechanic 10.5 is very safe for families. This product could have gone with a clinical look, but the colors make it feel like a part of the family. Or a long time friend that you want to spend some time with. This reviewer found no offensive images in System Mechanic 10.5 whatsoever.
System Mechanic 10.5 will offer helpful advice and explain what it is doing each and every single step of the process. There are also helpful articles that can help you avoid hackers, phishers and other scammers. It is a sad state of affairs that there are so many selfish people trying to prey on hardworking folks. The only audio this reviewer heard was the clicking of the mouse.
System Mechanic 10.5 can be used over and over again for the life cycle of payment. The prices are fair in this reviewers opinion. Yes, Family Friendly Gaming was provided a reviewable version for this review. It is amazing how often Windows messes things up, so System Mechanic 10.5 is a great tool to keep performance at optimum. Plus it costs less than a new computer.
Even your grandmother could use System Mechanic 10.5. Okay so maybe it depends on your grandma. Some could use this product, and others would refuse to touch a computer in the first place. So that statement may be a tad bit subjective. Still System Mechanic 10.5 is a very easy product to use. With tests we verified that System Mechanic 10.5 does improve system performance. How old a machine is, and how messed up it is determines how much improvement is experienced.
System Mechanic 10.5 is the kind of a product that can help families get extra life out of their computers. The WMG loves to see products like this on the market. With the economy the way it is, families need to find savings where ever they can. System Mechanic 10.5 is the kind of a product that can help. We ran into no conflicts with any of the software we run here at Family Friendly Gaming.
- Working Man Gamer
Graphics: 80%
Sound: 80%
Replay/Extras: 85%
Gameplay: 95%
Family Friendly Factor: 90%
System: Personal Computer
Publisher: iolo
Rating: 'NR' - Not Rated
Want more info on this product, or the company that made this product?
Set web browser to:
Link

Got a question, comment, or a concern regarding this review?
Email them to:
GameReviews@familyfriendlygaming.com