Super Street Fighter IV
SCORE: 55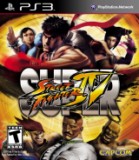 Super Street Fighter IV is the most recent release in the hardcore known franchise. This PS3 and Xbox 360 home console video game takes an artistic direction. The intro movie has to be seen to be believed. It also gives families a glimpse of the numerous issues in Super Street Fighter IV. Players punch, kick, and use insane super powers to defeat their opponent. Super Street Fighter IV hints that these powers are spiritual in nature.
The first problem I noticed in Super Street Fighter IV is many of the female characters. They are exposing a lot of flesh. I would hope that some day the video game industry can mature past this problem. Yet here we are, and there has not been any progress. The next problem in Super Street Fighter IV is predictable - violence. Punching, kicking, and using supernatural powers on other characters affects our minds. There are temples with religious symbols - nothing Christian. One character has a ying yang symbol rotating in their belly.
I was shocked and dismayed to hear bad language in Super Street Fighter IV. There was no point in it, and it hurts this game. The music is okay in Super Street Fighter IV. The voices are okay, but at times I felt they did not match the characters properly. The anime movie endings include fantastic music.
Super Street Fighter IV includes a lot of unlockable content. This ranges from different costumes to taunts, to victory speeches. Two players can enjoy Super Street Fighter IV locally, and they can also play online. Not all of the unlockable content is family friendly though, and that is what holds this section back a little bit. I found myself collecting so many trophies on the Playstation 3 that I had no clue what any of them were. Adults who can control their violent urges, and are willing to risk becoming more aggressive can enjoy Super Street Fighter IV. I would keep this game away from children - unless you want to be guilty of child abuse.
The controller being used has a lot to do with how Super Street Fighter IV controls. I used a couple of different controllers with varying success. Some of the moves in Super Street Fighter IV are easy to pull off and others are more complex. There is a training mode but I had problems figuring out what the game meant by certain input commands. With all of that said, there is an amazing balance in Super Street Fighter IV. Some fighters are slow and strong whereas others are faster and weaker. What is your fighting style?
Super Street Fighter IV teaches us to get them before they get us, and to keep getting them. I am not sure where this kind of a lesson can be a good thing. Drawing a blank. There are eastern religious themes in Super Street Fighter IV. I already mentioned the temples. I noticed a drunk drinking from a bottle in the background of one level, and Dhalism has some very unsettling spiritual based powers.
- Sam
Graphics: 47%
Sound: 50%
Replay/Extras: 75%
Gameplay: 69%
Family Friendly Factor: 34%
System: Playstation 3/Xbox 360
Publisher: Capcom
Rating: 'T' - Teen
{Alcohol Reference, Mild Language, Suggestive Themes, Violence}
Want more info on this product, the company that made this product?
Set web browser to:
Link

Got a question, comment, or a concern regarding this review?
Email them to:
GameReviews@familyfriendlygaming.com