Super Monkey Ball 3D
SCORE: 84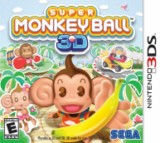 I pre-ordered a Nintendo 3DS on Amazon because of the $25.00 credit they were offering towards a Nintendo 3DS game. That way Super Monkey Ball 3D did not cost as much. Yes I am always looking for a good deal that is legal. The Super Monkey Ball franchise has been a good one for families over the years. I was curious to see how Sega made the jump to the 3DS. There are some good points, and a few not so good.
Graphically Super Monkey Ball 3D looks fantastic. The 3D effects are amazing. From the cardboard cut out world intro scenes to the levels. I felt depth as I played this hand held title. There is some violence in the Monkey Fight mode, and Monkey Race. Monkey Race is like a kart racing title done with the characters.
The music is amazing in Super Monkey Ball 3D. I love the little happy sounds the monkeys make when a level is completed. They woke me up with their sound bytes when I fell off a level. Sega was kind enough to include instructions on how to play Super Monkey Ball 3D before a world is started.
I am a little disappointed in the replay section of Super Monkey Ball 3D. I breezed through the first half of the game in an hour. It did get harder after that, but this is a game that can be beaten in a week (tops). This franchise is known for all kinds of wonderful mini games. Monkey Fight is lame. I can not think of a nice way of saying it. Monkey Race is okay. Bear in mind this game currently costs forty bucks. That is a lot of money for the content provided. Up to four players can play Super Monkey Ball 3D in local and download play modes.
The circle pad or tilting are the two ways Super Monkey Ball 3D controls. I found the circle pad works better. The 3D effect needs to keep the upper screen at the same angle as the player's eyes. Moving the whole machine around in the tilting control method messes up the 3D. Another issue is once you start a world you have to keep the controls as is. It would have been intelligent to allow players to swap those controls at any point within the ten levels. I had fun playing Super Monkey Ball 3D. I do feel it was rushed to market, and should have included more content.
Super Monkey Ball 3D presents the player with choices in levels. Go for the bananas or go for the goal. Getting thirty bananas grants the player an extra life. Getting to the goal in under sixty seconds completes the level. At first it is easy to get both, but as the game progress it becomes a choice. I came away from Super Monkey Ball 3D with more positives than negatives. I hope a sequel will improve it even more.
- Paul
Graphics: 89%
Sound: 91%
Replay/Extras: 77%
Gameplay: 79%
Family Friendly Factor: 85%
System: Nintendo 3DS
Publisher: Sega
ESRB Rating: 'E' - Everyone
{Cartoon Violence}
Want more info on this product, the company that made this product?
Set web browser to:
Link

Got a question, comment, or a concern regarding this review?
Email them to:
pbury@familyfriendlygaming.com