Sports Champions
SCORE: 73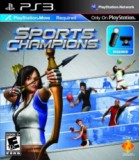 I have been excited about the PS3 Move since I flew all the way out to Los Angeles, and tried it at E3. I have had some concerns about Sony's approach of motion gaming, and targeting the adult audience. When a reviewable unit did not arrive for the PS3 Move, we saved up money to purchase one. Went with the Sports Bundle with our friends over at Amazon. That bundle comes with Sports Champions. I had high hopes for this game, and honestly it let me down.
The graphics in Sports Champions are very good visually. The areas in this game look exactly like I would expect them to. The beach, forest, and tables look fantastic. The characters look very realistic. Unfortunately they look a little too realistic. You know from all of my years pumping iron at various gyms there were few women dressed as they are in Sports Champions. Loose clothing, and covering up could have been a part of this PS3 game, but that kind of diversity was not tolerated.
Have you ever heard of awkward silence? Sports Champions has it in spades. The various characters in Sports Champions play to stereotypes, and they repeat their phrases numerous times. So when we did get something said, it was over-used sound bytes. Sports Champions also contains some taunting that teach the opposite of good sportsmanship.
Sports Champions contains six entire sports. I use the term sport lightly too. Disc Golf, Bocce, Beach Volleyball, Table Tennis, Archery, and Gladiator Duel are the included games. They have different difficulties, and various backgrounds to play them in. The stand alone game is forty dollars right now, and one hundred if you get the controller/camera package. In my opinion the price is too high for the content.
Speaking of content in Sports Champions, why do I have to calibrate the controller every single time I play one of the six sports? This was the most irritating and frustrating thing for me. With that out of the way, the controller works marvelously. I really enjoyed the Wii like action on the Playstation 3. Archery was a fun game to play. Yes that means I was not impressed with the other five. Beach Volleyball is the only one that approaches a sport in my opinion.
Families need to be aware of Gladiator Duel in Sports Champions. Players get a weapon and a shield, and must pummel their opponent into submission. This reminded me of the Soul Calibur games. Sports Champions shows what the Move can do. I would like to see sequels toned down for families.
- Paul
Graphics: 72%
Sound: 69%
Replay/Extras: 73%
Gameplay: 85%
Family Friendly Factor: 66%
System: Playstation 3
Publisher: Sony
ESRB Rating: E10+' for Everyone 10+
{Violence}
Want more info on this product, the company that made this product?
Set web browser to:
Link

Got a question, comment, or a concern regarding this review?
Email them to:
pbury@familyfriendlygaming.com