Soccer Bashi
SCORE: 89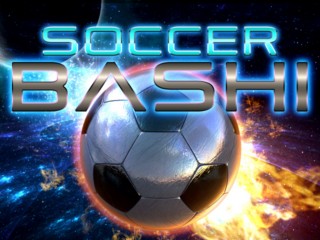 Soccer Bashi is a mixture of soccer and Breakout. Let that sink in for a minute. Is your mind racing yet? Are you trying to figure out how to mix those two? Well let me explain it a little bit better. Or I will try to explain it better. Players have a flat facing small platform that they use to bounce the soccer ball off of. There are blocks that can be destroyed when the ball makes contact with them. There is also a goal, and a defender on the far side of the screen. Levels can be beaten by hitting all the blocks, or by scoring a goal.
The visuals in Soccer Bashi are way better than I was expecting. There are various skins, backgrounds and more in Soccer Bashi. This downloadable game includes various bosses. Bounce the ball off them enough times to get them to explode. Certain levels also have robot characters who also require multiple bounces to make them explode as well. Level ups fall down when certain blocks are hit, but not all of them will help you.
The music is upbeat and energetic in Soccer Bashi. I enjoyed the special effect sounds while playing this video game. The music and sounds in Soccer Bashi are crisp, and clear. They are also cheerful, and bring something to the table. I did not hear any offensive sounds while I was playing Soccer Bashi.
Soccer Bashi includes ninety block busting levels, and ten bosses. Family Friendly Gaming was provided a download code for Soccer Bashi. With that stated I do believe Soccer Bashi is worth the low price. One of the reasons for that is Soccer Bashi allows players to create their own levels. In fact we can store 100 user generated levels. Part of the fun of Soccer Bashi is learning all the different power ups.
The thing that shocked me about Soccer Bashi is not every power up helps.In fact some hurt. This realization, along with the good ones rarely string together made me pay attention to the power ups and play strategically. There were times I avoided power ups because of what they were. I wish some of them were a little clearer, because I had issues figuring out what some were. Trial and error became part of how I played Soccer Bashi. The difficulty gets progressively harder, and will challenge even the best gamer.
I found myself questioning the angles in Soccer Bashi from time to time. I thought the ball should bounce a certain way, and it went off on a weird angle. This did not happen all the time, but enough to make me very cautious. Plotting out the balls course is one of the lessons players can learn from Soccer Bashi. Power ups also will speed or slow the speed of the ball. The main violence in Soccer Bashi is bouncing off of robot looking creatures, and they blow up. They will shoot at you, and the goal is to avoid their attacks.
- Paul
Graphics: 89%
Sound: 90%
Replay/Extras: 97%
Gameplay: 81%
Family Friendly Factor: 86%
System: Playstation 3/PSP/Wii/PC
Publisher: Icon Games Entertainment
ESRB Rating: 'E' for Everyone
{Mild Fantasy Violence}
Want more info on this product, or the company that made this product?
Set web browser to:
Link

Got a question, comment, or a concern regarding this review?
Email them to:
pbury@familyfriendlygaming.com