Roogoo Twisted Towers
SCORE: 78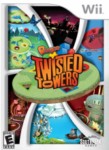 I had heard some good things about Roogoo Twisted Towers, and decided to try it for myself. So I purchased a copy, and worked it into my busy Family Friendly Gaming schedule. There are various shapes that must drop into the matching holes until they reach the bottom. This is a simple enough concept, unfortunately the implement is not as innovative as the gaming concept. Southpeak games also included some various different mini games to spice things up. They had to because the main game play gets repetitive very fast. This game reminds me of that childrens toy that you put blocks of various shapes inside it. The main difference is Roogoo Twisted Towers has multiple layers.
There are some great colors used in Roogoo Twisted Towers, and there are some areas that are lacking details. I know the Wii is not generally known to be a graphical power house, but I was expecting better from Roogoo Twisted Towers. There are some interesting looking little characters who are in essence poking fun at various known franchises from quite a few different genres. You get a Tempest style game where you are shooting at the bad characters, and picking up shapes for points. The butterfly catching game was one of the stand out parts of Roogoo Twisted Towers.
I found the music in Roogoo Twisted Towers to be pleasant, and uplifting. The humor in this Wii game is directed right at gamers. The interesting thing is we did not find it funny. It was not offensive, just not funny. You may have a different opinion, which is fine with me. The special effect sounds can annoy. Everytime I missed a hole I was not pleased with the sounds this home console game provided me.
If you enjoy the game play of Roogoo Twisted Towers, then you will find a fair amount of replay value. Four family members can play Roogoo Twisted Towers together, and there is connectivity between the Wii and Nintendo DS versions. I still find it odd to have a boss in a puzzle game, but Roogoo Twisted Towers pulls that off pretty well. As you finish one level you open up the next one. Roogoo Twisted Towers has enough levels to keep most gamers busy for a few weeks at the very least. I got Roogoo Twisted Towers for a real bargain basement price, but am not convinced I got my moneys worth.
I can not comprehend why the developers picked this control scheme. It is frustrating irritating, and leads to many mistakes. When I started playing Roogoo Twisted Towers I had fun. After the first world it became a real chore. More shapes are added, and the player must work faster. So Roogoo Twisted Towers became much more frustrating. Different parts of this game control differently and that is what hurts this Wii game. If you are looking for a challenge based on the control scheme then Roogoo Twisted Towers is for you.
I love it when video games have storylines that have few connections to how a game plays. Roogoo Twisted Towers is one such example. How dropping these blocks down through holes stops a great evil is beyond me. If the controls scheme in this game was heavily altered I would be all over a sequel. Parents may need to explain some of the humor in Roogoo Twisted Towers since it relates to various video game characters. - Paul
Graphics: 78%
Sound: 82%
Replay/Extras: 80%
Gameplay: 70%
Family Friendly Factor: 79%
System: Wii
Publisher: Southpeak Games
ESRB Rating: 'E' for Everyone
{Mild Cartoon Violence}
Want more info on this product, the company that made this product?
Set web browser to:
Link

Got a question, comment, or a concern regarding this review?
Email them to:
pbury@familyfriendlygaming.com