NBA 2K9
SCORE: 73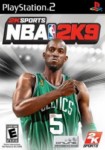 I so thoroughly enjoyed NBA 2K10 on the Wii that I decided to check out the previous year on the Playstation 2. NBA 2K9 can be found on the Personal Computer, Playstation 3, an Xbox 360 as well. I should have gone back into the archives and noticed how NBA 2K7 did. But it helps fill a hole in our extremely full reviews section, and it may help over one million people make a decision on this game. Especially if you see it on clearance as I did. Improved Association, Signature Shot Additions, and Hot Zones are some of the key features in NBA 2K9.
Graphically speaking NBA 2K9 ranges across the various formats. The Playstation 2 has the worst graphics, and I have to tell you that they are pretty bad. Things look a little bit better on the newer consoles, but honestly they do not look that realistic to me. The courts look pretty good, and there is a little diversity in the stands. Some animations look great in this home console title, and some do not look so good. The cheerleaders who like come out way too often for me have gyrations I would not expect to see in a 'T' rated video game, let alone an 'E' for Everyone rated one. Their attire is also barely above underwear.
The announcers continue to do a good job in NBA 2K9. I am once again dismayed at the music in this franchise. There was not one song in NBA 2K9 that I enjoyed. Then I had to go hunting through numerous menu screens to turn off the music. There was no selection in the PS2 version of NBA 2K9 to pick and choose songs. Thankfully that is resolved in NBA 2K10.
If you are into some hardcore NBA action with Kevin Garnett on the Boston Celtics then NBA 2K9 will provide a lot of replay. There are plenty of teams in this sports title, as well as modes. NBA 2K9 has an online mode for those that like to compete against others from around the country. There is also a local multiplayer mode for two players to compete in NBA 2K9. I spent just under three dollars on this game, so I feel like I got my moneys worth.
The realism improved in NBA 2K9 from the previous version I played in the series. There are still some issues though. I would make a drive for the basket and my player would just stop. I thought I would easily go around the defender, but the game would not let me. At times my players would take a shot, and others drive to the hoop. What is frustrating is when it is near the same spot in the same situation. The hot spots indicator is nice and allowed to better tailor my shots.
Generally sports games are very family friendly. The cheerleaders being shoved in our face means NBA 2K9 is not a game for children. The music is also not something I would want to subject children to. NBA 2K9 is a game to avoid. Graduate up to the next year for much better results.
- Frank
Graphics: 63%
Sound: 70%
Replay/Extras: 84%
Gameplay: 78%
Family Friendly Factor: 69%
System: PS3/PC/Xbox 360/PS2
Publisher: 2K Sports
ESRB Rating: 'E' for Everyone
Want more info on this product, the company that made this product?
Set web browser to:
Link

Got a question, comment, or a concern regarding this review?
Email them to:
GameReviews@familyfriendlygaming.com