Mushroom Age
SCORE: 66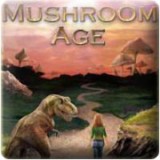 I downloaded Mushroom Age on a free download day. We had been told about it by our friends in a PR firm. Paul and I discussed this app because there was a concern based on a picture showing that infamous monkeys into man. There will be more on that later. Mushroom Age is a search and find game. There are different ways this is played, and a few other mini games included. Essentially Mushroom Age is finding hidden items on screens. Lazy players will be happy to know they can touch all over the place without any penalty. There is also a hint button that can be pressed if you are really stuck.
I liked the visuals in Mushroom Age at first. But a few things started to bother me as I played this app. First off the animation is very low in Mushroom Age. Characters will come on, and off the screen in a herky jerky kind of fashion. There are images of dinosaurs talking, cavemen, and more. There are multiple mentions of evolution in Mushroom Age, and it is treated as fact as opposed to a theory that numerous scientists have rejected. God's mouth is shown in this app as well.
One of neat things about Mushroom Age is the voice acting. Listening to the voice actors is a treat on the iPod Touch. They do a decent job, and the music fits the theme of this game as well. The evolution content has already been mentioned. God is shown as aloof, and not interested in human events. Aliens have more of an interest, and so do robots. Jesus is mentioned as a historical figure.
Mushroom Age includes numerous chapters that will take a few weeks to complete. The price for this game is currently $4.99. Due the ability of how quickly levels can be beat by touching all over the screen, I do think the price is a little excessive. The story can also meander around at times.
At first I loved not being penalized for touching the wrong spots on screens. Then that turned as I realized I could get through levels quicker with random touches as opposed to actually looking and/or thinking about what I was doing. The storyline is interesting, although there are some plot points that made little to no sense to me. I found the spiritual aspects of Mushroom Age in the storyline to be unsettling.
There are various concepts in Mushroom Age. Some of them are we are all like gods, God is not interested in our lives, and evolution. Searching and finding items is a great mental exercise. The lack of penalty for mistakes ultimately hurts this game.
- Yolanda
Graphics: 70%
Sound: 67%
Replay/Extras: 68%
Gameplay: 69%
Family Friendly Factor: 57%
System: iPhone/iPod Touch
Publisher: G5 Entertainment
ESRB Rating: '4+' - 4+
Want more info on this product, the company that made this product?
Set web browser to:
Link

Got a question, comment, or a concern regarding this review?
Email them to:
craftiemom@familyfriendlygaming.com