MotoGP 09/10
SCORE: 86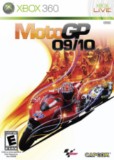 It is always a disappointment when a reviewable copy of a game does not come in. Especially after all the months of coverage, high level of anticipation, and excitement. But sometimes even media outlets as large as Family Friendly Gaming fall through the cracks. Usually after a major earthquake or something. So I had to save up to purchase MotoGP 09/10. I found it on sale not to long ago, and so it went to the top of my list. MotoGP 09/10 is on the Xbox 360, and Playstation 3. I am using the former for this review.
The graphics in MotoGP 09/10 are astounding. The weather effects, the bikes, and the racers are all amazing. I raced on a rainy day, and the spray from vehicles in front of me blinded me. The tracks look extremely realistic, as do the backgrounds. Some tracks have amazing backdrops that continue to impress me. The downside to MotoGP 09/10 is how many of the female characters dress. You can also see some anger from other bikers if you run into them on the race track.
I am not really big on the music in MotoGP 09/10. Thankfully it can be turned down, and is more back drop than anything else. The accent of the man who explains what to do in this home console game is unique. It makes me think people like our own editor in chief should be doing voices in video games. Maybe Capcom will turn to him for future games. The one complaint I have about the voice in MotoGP 09/10 is it sounds like sound bytes. At times they make no sense. I was told to gain some places, made a mistake and crashed. I was then told to slow it down. Well it was still the last lap, and I had even more places to catch up.
MotoGP 09/10 includes enough modes, bikes, racers, and options to keep bike racing fans busy for months to come. The career mode can drain away hours. Two family members can enjoy MotoGP 09/10 locally, and up to twenty people can compete online. I feel like I got my moneys worth out of MotoGP 09/10.
Each race has a line, and less experienced racers are going to want to use that line to learn how to race. There are also places where one can brake. I crashed so often in MotoGP 09/10 that I expected to get a low grade. Now I disagree with some parts of the grading system. A biker hits me from behind and I get punished. This is wrong in my opinion. Racing clean is very difficult in this game, especially when you want to place in the top whatever. It is way too easy to lose numerous places in a race after one mistake. With that said I did enjoy my time with MotoGP 09/10.
MotoGP 09/10 is not an easy game. The goal is to win the race by any means necessary. Women being treated like sexual objects is the biggest problem with MotoGP 09/10. I know we are covering the sequel, so hopefully I will be able to get a review of that to you guys much sooner. I look forward to the improvements. - Frank
Graphics: 80%
Sound: 86%
Replay/Extras: 99%
Gameplay: 88%
Family Friendly Factor: 84%
System: Playstation 3/Xbox 360
Publisher: Capcom
ESRB Rating: 'E' - Everyone
{Mild Suggestive Themes}
Want more info on this product, the company that made this product?
Set web browser to:
Link

Got a question, comment, or a concern regarding this review?
Email them to:
GameReviews@familyfriendlygaming.com