Monster Hunter Freedom
SCORE: 59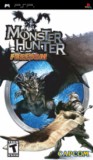 I was wondering what all the hype was concerning the Monster Hunter franchise. So I decided to get one of the early Playstation Portable versions to learn for myself. In the past Family Friendly Gaming has graciously passed on covering this franchise. But after prayer, and some healthy debate, I convinced the MAIN MAN to let me review this game. For those wondering, yes I bought Monster Hunter Freedom myself. Capcom did not provide this game to me. Nor did they give me any cute little stuff animals based on the characters, or any action figure toys. Although if they want to in the future I would be happy to accept them.
Monster Hunter Freedom is in essence a medieval hack and slash hunting game. You don't level up in the normal sense of the video game industry. You create new items that will enhance your abilities. This felt really strange at first, because a normal hack and slash encourages the player to destroy as much as possible, and as quickly as possible. Monster Hunter Freedom has a much slower pace. In fact battling the same monsters over and over again will just dull your blade. Which makes your weapon less powerful. Monster Hunter Freedom is designed only for the gamers who can handle frustration upon frustration.
The graphics of the animals in Monster Hunter Freedom is pretty good. The blood and violence in this game is not for the squeamish. If you get dizzy at the sight of blood, then you really need to pass on this game, because you will spend more time passed out than actually playing. There are various environments in Monster Hunter Freedom that range. The numerous dinosaur creatures in this PSP game is interesting at best. I really want to be like Noah and get them on the Ark.
Monster Hunter Freedom includes a wide array of characters. The majority of them were brass and crass. There is talk in Monster Hunter Freedom of various deities. Monster Hunter Freedom is another example of a video game that was not regionalized for the United States before it was sold. God that over 90% of Americans believe in was not represented in this game. A different religious belief. It would help these games if they would regionalize their games for the majority religious beliefs when they include religious content.
There are so many holes in the game play of Monster Hunter Freedom that it frustrated me to no end. The tutorial took a long time because the game is rather vague in how to do certain things. I thought I had done some of them wrong, and kept trying to do them again. Other tasks are nearly impossible to complete, and take retry and after retry. There are a lot of items, and combinations in Monster Hunter Freedom, but I did not have fun with it at all.
I hope future releases in this franchise are better. If I had played Monster Hunter Freedom years ago, I would be saying leave this concept alone, and no sequels are needed. But there are sequels so I hope and pray they correct the mentioned mistakes.
- Sam
Graphics: 52%
Sound: 59%
Replay/Extras: 75%
Gameplay: 55%
Family Friendly Factor: 55%
System: Playstation Portable
Publisher: Capcom
ESRB Rating: 'T' - Teen
{Blood, Use of Alcohol, Violence}
Want more info on this product, the company that made this product?
Set web browser to:
Link

Got a question, comment, or a concern regarding this review?
Email them to:
GameReviews@familyfriendlygaming.com