Marvel vs Capcom 3 Fate of Two Worlds
SCORE: 60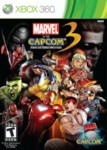 Marvel vs. Capcom 3 is one of the most anticipated games of early 2011 in certain circles. It is a sequel to very popular and highly successful Marvel vs. Capcom 2 from a decade ago (editor: with hardcore gamers). The Capcom name is synonymous with the Fighting genre, and this title feels right at home in the Capcom library. Marvel vs. Capcom 3 features characters from the Marvel and Capcom universes, and brings them together in an action packed, but ultimately disappointing game for families.
As far as violent fighting games go Marvel vs. Capcom 3 will battle against any game for the top spot. The game controls and mechanics make this title an entertaining entry into the fighting genre. Marvel vs. Capcom 3 brings back the slick gameplay that has made this franchise so popular, and made it even easier for newcomers. There are two control systems that give new gamers a chance to ease into the game. The new simple control scheme is well thought out and easy to use. I found myself however, wanting to use the standard controls in order to get the full effect of the combos, special moves and overall feel for the match.
Marvel vs. Capcom 3 has plenty of depth when combining the off-line and on-line content. Off-line content includes Arcade, Training, Mission and Versus modes. Fighting games like this can be fun when playing solo, but often the fun kicks in when you are joined by and friend and the competition steps up. On-line gameplay will allow gamers to join up with some friends.
Graphically speaking, Marvel vs. Capcom 3 has more of a cartoony look and feel to it than most other comparable fighting games. Capcom went for the more animated look, and for the most part it pays off. The characters may not be as detailed and they could have been, but it really doesn't matter once the matches begin. Again, there is physical violence so parents will need to be ready to watch, play and discuss this title with their family members. The main problem with Marvel vs. Capcom 3 is the attire worn by the characters – especially the female characters. Capcom left little to nothing to the imagination when designing the female characters included in Marvel vs. Capcom 3. From human females to human/creatures, there is partial nudity that is truly unnecessary. Being a husband and father, I would not feel comfortable playing this title due to the graphic portrayal of the female characters.
The sound in the game is typical for this genre. Loud. I was a bit put off by the same tag line before every match. "This is the fight of your life". Every match. After the matches the camera will focus on a character from the winning team. It was disappointing to hear cursing in these cut-scenes, as it was completely unnecessary. There are sounds of physical combat, moaning and groaning from the matches.
Marvel vs. Capcom 3 is already a huge hit in sales, and there is the groundwork for a great game in the fighting genre. However, the unnecessary partial nudity and sexual themes really take away from what could be a fun and entertaining martial arts / fighting game. If reviewing or discussing this title with the family, parents can discuss competition, fighting, modesty and lust. Overall, Capcom is second to none is designing the controls and gameplay of the fighting genre, but attention should to be paid to the deficiencies in presentation that may turn families away. Or at least provide some sort of a safe mode for families.
- Alan
Graphics: 53%
Sound: 62%
Replay/Extras: 65%
Gameplay: 72%
Family Friendly Factor: 49%
System: Xbox 360/Playstation 3
Publisher: Capcom
Rating: 'T' for Teen
{Mild Language, Partial Nudity, Sexual Themes, Violence}
Want more info on this product, or the company that made this product? Set web browser to:
Link
Got a question, comment, or a concern regarding this review? Email them to:
GameReviews@familyfriendlygaming.com