Mahjongg Artifacts
SCORE: 83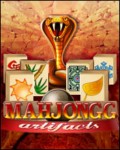 Mahjongg Artifacts is a mixture of the online video games, and Mahjongg. Do you know what Mahjongg is like? It is a tile game where the player must match. There are some nice variances in Mahjongg Artifacts like seasons can match, and so can things like flowers. The whole online aspect of Mahjongg Artifacts comes in with the comic book. You know the online games that have little comic book screens between levels right? Well Mahjongg Artifacts has that too. It tells the story as the player progresses through the game.
Family Friendly Gaming was provided a downloadable copy of Mahjongg Artifacts for the Playstation 3, and Playstation Portable. It works on either system. To take Mahjongg Artifacts on the go, players need to download it to their PSP and have enough memory. Don't worry, Mahjongg Artifacts is not a memory hog.
The visuals in Mahjongg Artifacts felt a little small to me at first, until I played around with the zoom feature. Then I had no issues with the graphics whatsoever. Well at least while I was playing the tile part of the game. There are various temples, and mystical artifacts in the comic book.
The music in Mahjongg Artifacts is relaxing. Which is neat because I found myself stressing trying to find certain tiles. There are some cool game play aspects I will get to later. The special effect sounds go right along with the special effect visuals which show some nice polish and shine to this downloadable video game.
There are enough different levels and modes to warrant the price of Mahjongg Artifacts. I personally feel this game is worth the cost. After the story mode, the you can go into endless, or others where you can continue to match the tiles. The story did keep my interest.
You know what I hate about most Mahjongg video games? Getting no more moves and that is losing a level. Mahjongg Artifacts includes a shuffle option where you can shuffle the tiles around. Certain tiles can be used against many others - even those that do not exactly match. There is also an option where the game will show you a match. I had fun playing this game mainly because of how good the presentation is.
Finding two items that match are one of the main lessons in Mahjongg Artifacts. The mystical aspect of the storyline is a little weird in my opinion. I do hope there are sequels to this game in the future. It was a pleasure for me to play and review Mahjongg Artifacts on the PS3/PSP. I prefer this version over others I have played in the past, or playing with tiles in real life.
- Sam
Graphics: 80%
Sound: 81%
Replay/Extras: 88%
Gameplay: 87%
Family Friendly Factor: 77%
System: Playstation 3/Playstation Portable
Publisher: G5 Entertainment
ESRB Rating: 'E' for Everyone
Want more info on this product, or the company that made this product?
Set web browser to:
Link

Got a question, comment, or a concern regarding this review?
Email them to:
GameReviews@familyfriendlygaming.com