Madden NFL 12
SCORE: 94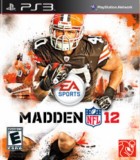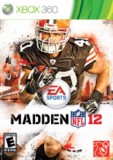 There is always a sense of expectation and excitement in the video game community in the month of August. That is because of the release of the most popular and successful football franchise of all time - EA Sports' Madden. And this year was no different. With the NFL locked out, there was little to get excited about other than the return of our favorite video game pastime. Did Madden 12 live up to the lofty expectations, or did EA slip up short of the end zone?
Coming up short is not an option for EA, and Madden 12 shows their passion for the game of football and desire to make the most realistic football simulator in video game history. For those fans of the franchise, it will be evident from the first snap how EA improved the gameplay. Improvements include an all-new Collision System and Advanced Defensive AI. The new Collision System jumped out to me right away. Having been a Madden gamer for the last 20+ years, I was ecstatic to see this finally implemented. In previous installments of Madden your player would be subject to sliding into tacklers or getting sucked into a pile of bodies for no reason. I have long been frustrated by those bugs, and always thought they held Madden back from reaching its full potential. So now that those are corrected, gamers will see an immediate improvement in the gameplay from running the ball, making tackles, and blocking. The correction means that animations do not start until contact is made between two players. Sounds simple, but it makes a tremendous difference.
The new Defensive AI strategies include improved better zone mechanics and player response to different scenarios. This allows for the defensive players to look more engaged in the plays. They will be in better position to make the plays you would expect from their real life counterparts. Also getting overhauled this year is the lighting system. Stadiums look better and reflections are much improved from Madden 11. The improved lighting also shows off the new 3-D grass. Again, something that sounds simple, but makes a positive impact on the overall presentation.
Speaking of presentation, Madden 12 boast some of the best presentation of any recent sports game. EA developers spent time with CBS directors to get a feel for how football games are produced for TV. The payoff is fantastic. New camera angles and on-field graphical presentations add a dimension to the game never seen before. I enjoyed the modern look of the title screen and menu screens. The game is very polished and looks great in High Definition. The addition of some new player animation is also a nice touch and adds to the realism. One of the only things that does not reach its potential in Madden 12 and slightly takes away from the overall presentation is the in-game commentary. The announcers are enthusiastic and professional, however, the clips are too repetitive and grow annoying way too quickly. My hope is that new commentary can be added for next year.
Madden 12 contains all of the same modes from last year edition - Superstar, Online , Franchise, Exhibition, etc. Franchise mode received some tweaking regarding free agency and rookie scouting. Not a major overhaul, but enough to see some changes and give a fresh look for gamers. Dynamic Player Performance gives gamers a more realistic look and feel for how players can get hot or cold in their performance over a single game and season as a whole. This feature is a nice touch and provides more in-depth realism to the game.
On the surface these may not sound like major changes. And to the casual gamer, they may not feel like game changing improvements. However, long time fans of football and Madden will appreciate the work EA put into making the game more realistic. I really enjoyed playing through both exhibition games, superstar and franchise modes. There is more than enough with the various modes to keep gamers busy until Madden 13.
As with most sports games, parents can discuss healthy competition with their children. But one thing I would like to discuss regarding Madden 12 specifically. I appreciate EA's focus on the small things and making behind the scene improvements that really make for a better on the field game. Parents can use EA's desire to improve even the small things to challenge their children to make sure they are giving 100% in all they do - and how that improves the overall presentation of your life. Cheerleaders are present in Madden NFL 12 with their less than conservative attire.
EA's Madden 12 is one of the most realistic sports games of all time. As I mentioned earlier, as a long time fan of the franchise it was exciting to finally see some of the nagging issues corrected. This is a great year for the Madden franchise, and I look forward to seeing how EA continues to improve the franchise in years to come.
- Alan
Graphics: 90%
Sound: 89%
Replay/Extras: 100%
Gameplay: 96%
Family Friendly Factor: 94%
System: Playstation 3/Xbox 360
Publisher: EA Sports
ESRB Rating: 'E' - Everyone
Want more info on this product, or the company that made this product?
Set web browser to:
Link

Got a question, comment, or a concern regarding this review?
Email them to:
GameReviews@familyfriendlygaming.com