Lego Indiana Jones 2 The Adventure Continues
SCORE: 65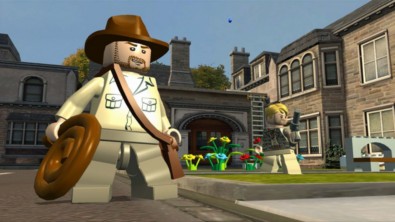 The Lego video games have had varying degrees of success over the years. Family Friendly Gaming does its best to stay on top of this series because millions of families enjoy the games, and they are safer than many other franchises for families. I ran across Lego Indiana Jones 2 The Adventure Continues and decided to purchase it. Traveler's Tales and Lucasarts have really topped themselves with this cross console video game. I purchased the Wii version, and have been very impressed with it. I know others enjoy it on the Xbox 360, PS3, PS2, and PC. There are also hand held versions on the Nintendo DS and PSP, but those games are different enough to warrant their own reviews.
The visuals are improved slightly in Lego Indiana Jones 2 The Adventure Continues. The backgrounds look better, and Legos are incorporated to almost everything. When your character expires they fall apart. As do enemies when they are hit. The developer and publisher must have read our previous reviews because they have toned down the violence. I spent more time solving puzzles, and finding studs. In fact the more studs you find the more characters and vehicles you can unlock. The split screen when two players separate moves around keeping it pretty fresh. This innovation is really cool.
The sounds continue to be good, and there are many songs from the movies. Lego Indiana Jones 2 The Adventure Continues deals mainly with the Crystal Skull movie, however there is also new levels from the previous movies. Families can expect the same humor in this game as the previous one. The sounds characters make really fit into this humor as well.
I have been playing Lego Indiana Jones 2 The Adventure Continues non-stop for weeks and still have not unlocked everything. There is a lot of unlockable content in this game. This ranges from characters, to vehicles, to bonus levels. There is so much in this game that families will feel their money was well spent. I know I feel like I got my moneys worth from this game.
The controls in Lego Indiana Jones 2 The Adventure Continues have really improved. This home console game has smoothed over some of the rough spots from previous games. I only found myself stuck in a few places. We also ran into some glitches in this game that made us replay an entire level. This was annoying to me personally. I still have fun with this game though.
Two family members can enjoy some time together with Lego Indiana Jones 2 The Adventure Continues. The lesson of cooperation is a wonderful one for all members of the family. I really enjoyed figuring out how to solve the next problem in Lego Indiana Jones 2 The Adventure Continues. I hope to see more sequels to this franchise in coming years.
- Luke
Graphics: 63%
Sound: 70%
Replay/Extras: 65%
Gameplay: 71%
Family Friendly Factor: 55%
System: Wii/PS3/PC/Xbox 360/PS2
Publisher: Lucasarts
ESRB Rating: 'E10+' for Everyone 10+
{Cartoon Violence}
Want more info on this product, the company that made this product?
Set web browser to:
Link

Got a question, comment, or a concern regarding this review?
Email them to:
GameReviews@familyfriendlygaming.com