Keys of the Kingdom
SCORE: 91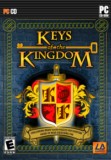 Generally speaking, overtly Christian video games tend to be poorly designed and, due to limited budgets, suffer from mediocre overall quality. LB Games attempts to buck this trend with Keys of the Kingdom for PC. This puzzle game is not only fun to play, but is also well developed and filled to the brim with scripture. The goal is simple, get the key to the lock by moving blocks to clear the way. Of course it's really a bit more complicated than that, but we'll get to the details later.
The graphical design in Keys of the Kingdom is pretty basic, but that's not to say that it isn't done well. While the game consists primarily of small square blocks on a grid, they vary in color and contain various designs to keep things looking lively. The main character is a horse named Solomon who is ridden by a knight who more or less snoozes while the horse takes the lead. These animated characters are cute and good for a laugh here and there. My kids had more than one giggle over Solomon's antics. I should note that the backdrop is the same for each level and never varies. A little extra variety in this area would be a welcome change in sequels to the game. There are no violent images for parents to be concerned about in Keys of the Kingdom. Some levels will require players to use bombs (some featuring a skull and crossbones), but the purpose is demolition not combat. After each level a Bible verse is prominently displayed on a scroll visually expressing God's Word.
As each scripture is displayed following the completion of a level, the narrator reads the verse aloud. The voice talent is top notch and each scripture is read clearly and with reverence. I found the selection of scriptures to be inspiring and each section of the game followed a common theme though scripture. The translation used in the game appears to be the New Living Translation, though I could not find confirmation of this anywhere in the documentation, help menu, or website. The sound effects in the game are great and provide appropriate feedback based on the actions you perform. They are done well and are amusing without getting to the point of annoying the player. The music in Keys of the Kingdom fits the medieval period in which the game takes place, though it offers little variety as you progress.
Keys of the Kingdom contains 100 levels to puzzle your way through. If you figure that spending 5 minutes per level (some will take less and some much more), that's over 8 hours of gameplay. Once you complete a level it is available for you to go back and replay anytime you wish. It's not likely that you'll memorize the solution to every puzzle with one play through, so there will be some replay value in that regard. And if you get hopelessly stuck with no hair left to pull out, each level provides a walkthrough video to reveal the solution. On the downside there are no unlockable features or other bonuses to encourage replaying the game. I will also mention that the game contains a link entitled "Know God". Upon clicking this link I had expected to be directed to a website featuring a salvation prayer or items for further study. The link, however, points to a site which is "down for maintenance". I tried this link several times over the course of a week and was never able to reach the destination.
The gameplay of Keys of the Kingdom is very easy to understand, but the challenge lies in accomplishing the simple goal of reuniting a key with a lock. Each level is laid out on a grid with various tiles scattered about in strategic locations. Players will need to match colored blocks to make them vanish or use bombs and pulleys to get the key to a previously inaccessible location containing the lock (or vice versa). I was amazed at the variety of creative layouts the designers were able to come up with for these puzzles. Some of the more tricky levels involve doing something counter-intuitive to get everything to work out. For instance, on one series of levels you may need to eliminate a number of tiles by sliding matching ones together to clear a path. Once you've trained your brain to do this, you may then be required to avoid eliminating blocks to make sure that you can get your key to the right place. I found that this kept the game from getting dull as I constantly needed to pay close attention to my next move (or next 5 moves) to make sure that I wasn't eliminating tiles that may serve a purpose later on. Pulleys and bombs add more variety to the gameplay and can likewise be used in ways that you may not consider initially. The game does have some weak points here however. Initially the game is extremely easy and players will breeze through the first 10 levels or so barely pausing to think. Oddly, the game seems to kick into extreme difficulty around level 20 making it impossible for younger players to continue on by themselves. The difficulty seems to be somewhat inconsistent in later levels with some being frustratingly confusing and others being surprisingly easy. The underlying story of the game is that Solomon and his trusty knight must defeat the wicked king by battling their way through each gate on the way to the castle. After reaching certain milestones in the game players will get to read a bit more of the story. The story is a real weakness of this game as it is very shallow and doesn't ultimately build up to anything. The ending leaves open the possibility of a sequel, but is tremendously anticlimactic. After battling my way through 100 levels of brain bending puzzles it would have been nice to enjoy some small sense of accomplishment.
As you may have guessed, this game is tops in the family friendly category. There are no offensive, graphics, sounds, or gameplay elements whatsoever. Keys of the Kingdom is full of inspiring scripture that encourages deepening your familiarity with the Bible and your relationship with God. Keys of the Kingdom can be enjoyed by family members of all ages though younger players will certainly need some help as the game progresses. If you're looking for a family friendly, God centered game that's truly fun to play you need look no further than Keys of the Kingdom.
-Roger
Graphics: 90%
Sound: 100%
Replay/Extras: 76%
Gameplay: 89%
Family Friendly Factor: 100%
System: Personal Computer
Publisher: LB Games
ESRB Rating: 'E' for Everyone
Want more info on this product, or the company that made this product?
Set web browser to:
Link

Got a question, comment, or a concern regarding this review?
Email them to:
Roger@familyfriendlygaming.com