Karate Kid (2010)
SCORE: 73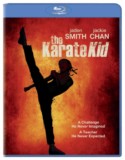 Move over Ralph Macchio and watch out Hillary Swank, there's a new karate kid in town. Jaden Smith (son of Will Smith and Jada Pinkett-Smith) plays the role of Dre Parker in Columbia Pictures re-creation of The Karate Kid. When his mother's job requires her to relocate to China, 12 year old Dre finds himself thrust in a new life in a foreign country. The challenges of learning a new language and attending a new school quickly become the least of his worries. When Dre shows an interest in his female schoolmate Mei Ying, the school bully, Cheng, expresses his interest in keeping Dre as far away from her as possible. Fortunately for Dre, the handy man at his apartment building also happens to be a kung fu master. Mr. Han (Jackie Chan) takes Dre under his wing and dishes up some valuable life lessons with a side of kung fu.
The Karate Kid contains some beautiful footage of China. There are several scenes featuring the picturesque landscapes found throughout China. Other scenes take place in areas of cultural significance such as a mountain top temple and a traditional Chinese festival. Even Dre's training sessions create some unique imagery that helps to make this movie easy on the eyes. As you've probably surmised, there are scenes of martial arts violence and fighting found scattered throughout the film. In my opinion this is all done very tastefully and is not overly violent. Buddhism is, of course, exemplified in the film but is by no means a main theme.
The audio in The Karate Kid is done well. The film features an interesting mix of cinematic music with music currently popular in the American culture thrown in. For better or worse the film lacks the extremely corny 80's music that we all loved in the original, but I suppose the current generation of viewers will relate better to something more modern than "You're The Best" by Joe Esposito. The film offers a surprising amount of wisdom and insight in regards to life's problems. While these insights are not necessarily intended to be from a Christian perspective, much of the content such as trying to make peace with your enemies, honoring your parents, and not allowing the things of this world keep you down line up with Biblical teachings. Parents should be aware that the "A-Word" and the "D-Word" are thrown around a handful of times, though Dre is quickly criticized by Mr. Han for using this language.
This Blu-ray contains a decent number of bonus features. These include an alternate ending to the film (if you're looking for a little extra Jackie Chan action), Chinese lessons, the making of Karate Kid, production diaries, MovieIQ, and a music video by Justin Bieber if you're into that sort of thing. This film runs about 2 hours and 20 minutes, so though you may want to watch it again, you're not likely to hit replay immediately.
As for the functionality of this Blu-ray, the movie and menus all work flawlessly. The Karate Kid makes excellent use of the features available on Blu-ray.
The Karate Kid is rated PG for bullying, martial arts action violence, and mild language. The family friendliness of the film is a mixed bag, but ultimately falls on the plus side. Fighting, some foul language, and hints of alternate religions play a part, but are outweighed by the strong sense of morality found throughout. Lessons in hard work, a respect for family, and a focus not on winning but on doing your best all help to make this movie something that can be enjoyed by families with older children. Kids will be able to relate to the challenges Dre faces in adjusting to a new school, discovering his feelings for a girl, and dealing with an aggressive bully. Of course the movie is ultimately about fighting, so regardless of how nicely it's portrayed, young viewers are likely to pick up on some of the aggression in the film. If you're a fan of the original movie, I encourage you to watch this film as a fresh take on an old story. You'll enjoy it much more if you don't try to justify why the original was better. While the underlying story is basically the same, this isn't so much a remake as it is a retelling of the classic story. We all love Ralph Macchio and Pat Morita, but give this movie a fair shot and enjoy the tale in a fresh way.
-Roger
Graphics: 77%
Sound: 71%
Replay/Extras: 72%
Gameplay: 74%
Family Friendly Factor: 73%
System: Blu-ray/DVD
Publisher: Sony Pictures
Rating: 'PG' for Parental Guidance
{for bullying, martial arts action violence and some mild language}
Want more info on this product, or the company that made this product?
Set web browser to:
Link

Got a question, comment, or a concern regarding this review?
Email them to:
Roger@familyfriendlygaming.com