Johnny Appleseed - Pecos Bill
SCORE: 88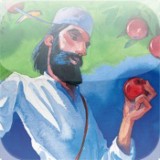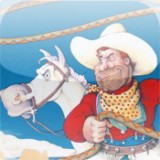 Family Friendly Gaming was offered an amazing opportunity. The opportunity to play around with some of the apps that bring classic stories to the lives of children on current technology. Ya'll know how much I love to read. We picked out Pecos Bill, and Johnny Appleseed. They also have Velveteen Rabbit, Tom Thumb, and John Henry. These iPhone/iPod Touch apps tell these classic stories. The only drawback I found to these apps is how large they are. We are talking over three hundred meg. Keep that in mind please, because we found it can take some time to download.
The graphical styles in both of these apps is fantastic. They remind me of a book. There are a few mild animations here and there. But do not expect a lot of animations out of Pecos Bill or Johnny Appleseed. The graphics are different in these books too. Pecos Bill has more of a cartoon look and feel to it. Johnny Appleseed is more contemporary. The attire of the characters is generally appropriate. Pecos Bill is naked for a portion but only his behind is shown.
Pecos Bill is narrated by Robin Williams, and Johnny Appleseed is told by Garrison Keillor. Both of them do an amazing job with the narrations. I am personally partial to Robin Williams, so even though I enjoyed the story of Johnny Appleseed more, I enjoyed the narration of Pecos Bill more. The light music fits the theme of each story.
There are three modes in both of these apps. They allow us to listen to the story, we can read it for ourselves, and finally we can read and record our narration. Children love these stories, and it is an educational way for them to spend half an hour.
The down side to these apps is you will most like have to recharge your unit after watching it twice. The other problem I ran into is how low the volume is. I hooked it up to an external speaker which was a lot better. There is a bar to show where the video is, this can be difficult to fast forward slowly. Reading the book yourself has much better controls. It is just like turning the pages of a book. Children of all ages can enjoy these books, and the prices are very reasonable.
I appreciate Ruckus Media Group coming up with these educational apps. It is fantastic to see newer technology being used in ways that bring good learning lessons to children. I hope they continue to release stories in the coming months and years. There are a lot of books they could do. In fact they could release books of the Bible too. I will be recommending these apps to family and friends.
- Paul
Graphics: 81%
Sound: 90%
Replay/Extras: 90%
Gameplay: 79%
Family Friendly Factor: 95%
System: iPod Touch/iPhone
Publisher: Ruckus Media Group
ESRB Rating: '4+' for 4+
Want more info on this product, the company that made this product?
Set web browser to:
Link1 Link2

Got a question, comment, or a concern regarding this review?
Email them to:
pbury@familyfriendlygaming.com