Herotopia
SCORE: 82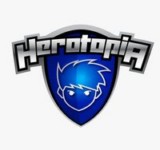 Herotopia is a Multi-Player Online Game from Herotainment. It is targeted at children ages six and up, but can be played by children of all ages. In Herotopia, gamers create their own superhero and battle the bullies of the world to develop and world without bullies. These battles are non-violent and focus on learning ways to appropriately handle bullies. Herotopia also provides opportunities for gamers to learn fun facts about other places around the world (i.e. big cities like Paris, France).
Gamers have many options is creating their superhero, including giving them their superpower (non-violent superpower). As with most other online multi-player games, Herotopia allows for complete customization of the character from appearance to wardrobe (membership required for full customization). The user interface for character creation is very easy to use – even for the youngest of gamers. Gamers are also able to name their characters, but as Herotainment recommends, it is best for children not to name the character anything resembling their real name.
The environments, characters and game menus are well developed, bright and colorful. Gamers will enjoy the opportunities to learn facts about places around the world. But the main message in Herotopia is overcoming bullying. Gamers help rid the world of bullies and learn applicable lessons on how to deal with them. There are also opportunities to help clean of the environments in Herotopia. But what would a multi-player online game be without…games? And Herotopia delivers. There are tons of fun games to keep the gamers busy.
One thing I really like about Herotopia is the chat option. In a lot of multi-player online games gamers type in their chats and are allowed to say what ever they like. But with Herotopia, they take child safety very seriously and the chat is limited to pre-scripted messaged only. I commend Herotainment for limiting the chat functionality in order to provide a safe environment parents can trust. Of course, parents should always monitor their child's online interactions, but I felt Herotainment took an extra step in working with parents on this issue.
As with all games, I suggest parents take time to play Herotopia with their child. Help them setup the character and get to know the game a little bit. Conversations on bullying, helping others and taking care of the environment are easy to start when playing Herotopia. This is a great game for children of all ages and I look forward to future releases from Herotainment.
- Alan
Graphics: 76%
Sound: 80%
Replay/Extras: 82%
Gameplay: 82%
Family Friendly Factor: 88%
System: PC (Online)
Publisher: Herotainment
ESRB Rating: 'E' for Everyone
Want more info on this product, or the company that made this product?
Set web browser to:
Link

Got a question, comment, or a concern regarding this review?
Email them to:
GameReviews@familyfriendlygaming.com