Grill-Off With Ultra Hand
SCORE: 68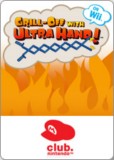 I love it when I get something for free. I love registering products I have purchased, and using that to acquire something special. Nintendo has been doing that with their Nintendo Club for a few years now. Grill-Off with Ultra Hand is a downloadable Wii game that is only accessible to gamers who have enough Nintendo Club coins. I buy so many Nintendo games, that I can get products like this one, and happily get reviews in Family Friendly Gaming.
The core of Grill-Off with Ultra Hand is to grill food, and score points. The more point you grill the higher your score. The nuance is you have this extender hand to grab the food, pull it back, and deposit it on a plate.
Grill-Off with Ultra Hand has a lot of good colors used. There are plenty of family friendly images, and the only downside is you may get hungry. I had to urge to go do some grilling after playing Grill-Off with Ultra Hand. Burn the food, and it gets black with a quickness. I did not find any offensive images in this Wii game.
I really enjoyed the music in Grill-Off with Ultra Hand. It is one of the real bright spots in this game. One word that I feel describes the music is fun. Some of the special effect sounds were annoying to me. The worse one was losing in a level. I did not hear any bad language while playing Grill-Off with Ultra Hand.
Grill-Off with Ultra Hand is the most difficult Wii game I have ever played. I found myself replaying over and over again just trying to get past level one. This became no fun fast, and I felt like I wasted my Nintendo coins on this game. Maybe you can learn from me, and save them for something more tangible.
I had real problems with the controls in Grill-Off with Ultra Hand. The extender hand does not always work right the first time, and in a game where time is of essence; well that's a real killer. Grill-Off with Ultra Hand is also very unforgiving. One mistake and it is level over. Add those two together, and you get a game that is designed to frustrate.
I found no moral or ethical issues with Grill-Off with Ultra Hand. The main lesson in this game is to be fast. I will never grill with that many machines at once, but paying attention the food is a good thing. I would like to see a sequel if there are some major tweaks done to the game play.
- Paul
Graphics: 80%
Sound: 83%
Replay/Extras: 60%
Gameplay: 41%
Family Friendly Factor: 75%
System: Wii
Publisher: Nintendo
ESRB Rating: 'E' for Everyone
Want more info on this product, the company that made this product?
Set web browser to:
Link

Got a question, comment, or a concern regarding this review?
Email them to:
GameReviews@familyfriendlygaming.com